Wembley Win for Mewse in Arenacross Finale & Crendon Fastrack Honda are crowned Arenacross 2023 Team Champions!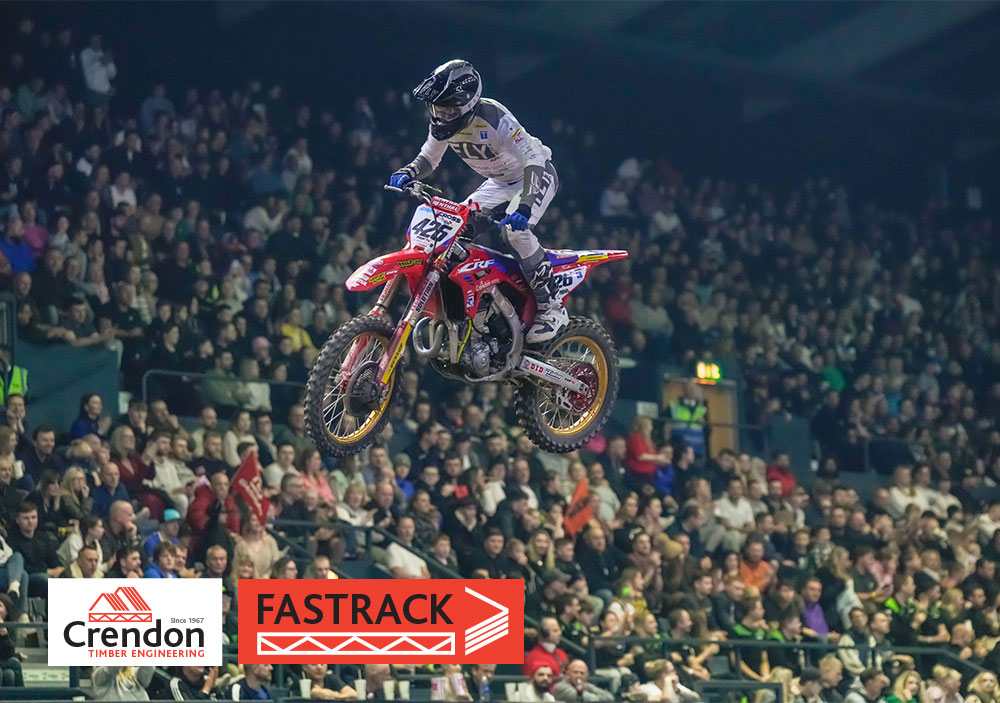 Rookie 450 rider Conrad Mewse staged an incredible ride from the back of the pack to take a well-deserved victory in the Superfinal as the UK Arenacross reached its climax at Wembley Arena in London. And he was joined on the podium by team-mate Josh Gilbert as the Crendon Fastrack Honda squad lifted the Team Championship trophy after some stunning rides by both men in the six-round series.
Amazing consistency saw Mewse take two race wins in the series and was second in all the other Superfinal races, while Gilbert had a single victory and a podium finish. The team was never headed in the Team Championship.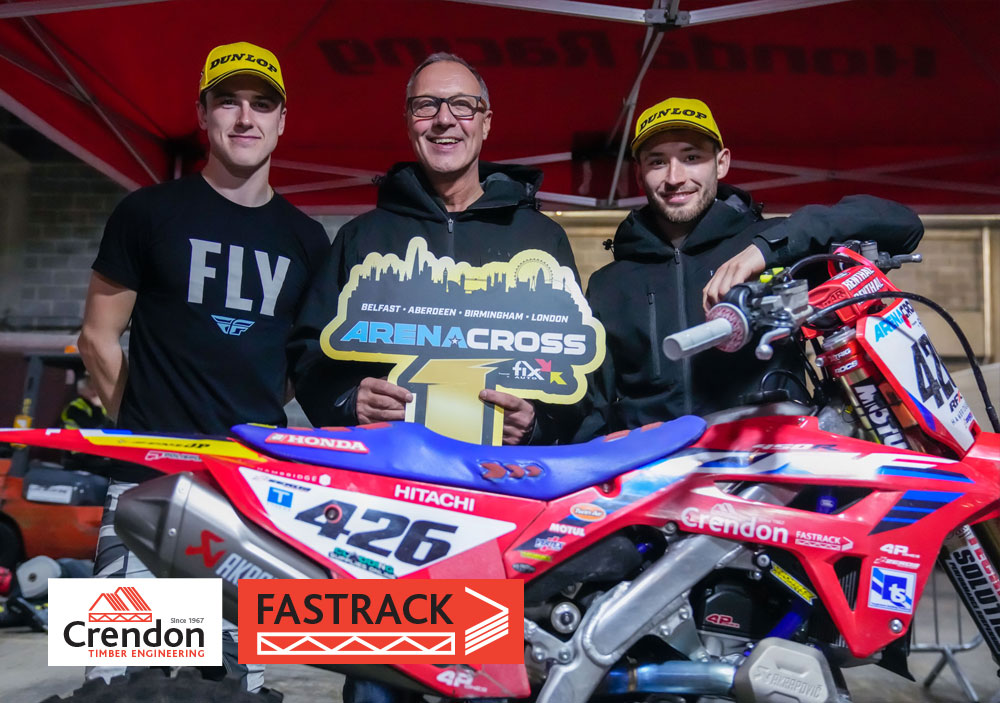 Both team riders started the final evening determined to have great results to cement their places in the championship. Mewse started the day second in the series, just two points off series leader Tommy Searle, and was firmly fixed on winning the final. And Gilbert was joint third, tied with local favourite Jack Brunell. With both Crendon Fastrack Honda riders making their Arenacross series debuts this year, they made good progress through the heats to qualify directly for the final, setting up a showdown for the final championship positions.
In the all-important final, Gilbert rocketed into the lead with Brunell and Searle on his tail but Mewse got bunched up with rivals and was last entering the first turn. Gilbert held the lead but after two laps slipped back to third as Brunell took over at the front from Searle while Mewse began his relentless charge through the pack.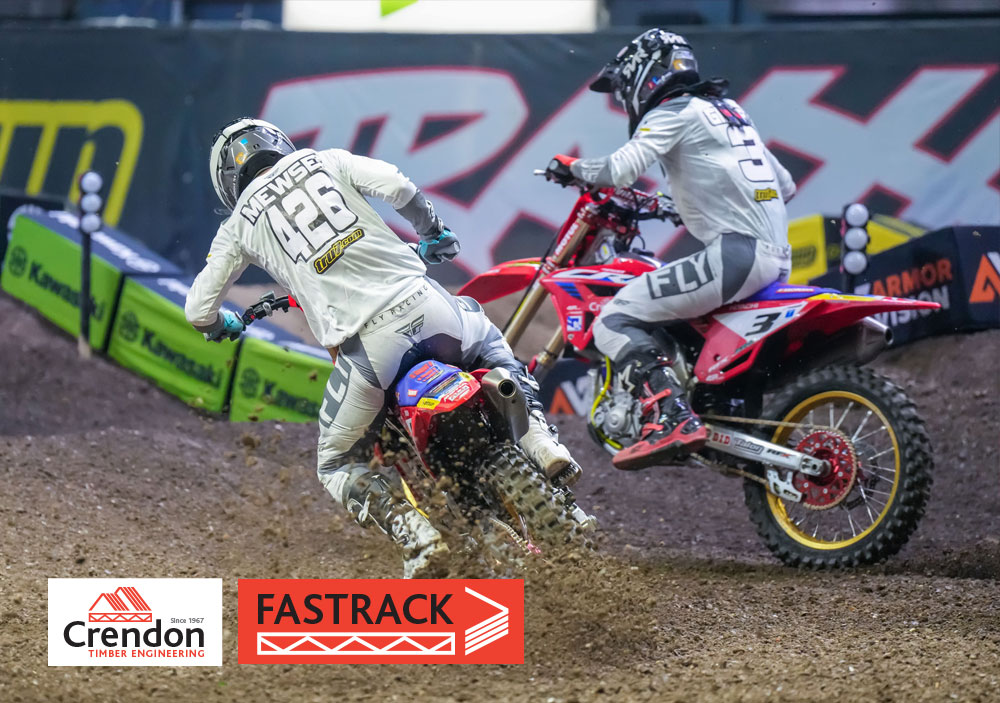 Mewse picked off rider-after-rider and eventually caught, and passed, his team-mate for third. But he wasn't done yet as he reeled in Searle and dived inside for second, then two corners later went past Brunell to take the lead. Searle managed to get by the tiring Brunell for second as Mewse took a well-deserved win.
Gilbert caught Brunell up on the last lap. With third in the championship at stake, Gilbert made a push in the penultimate corner but lost the front and went down. He remounted quickly to take fifth place, for fourth overall in the series. And despite the emphatic race win, Mewse ended up second overall in the series as Searle had scored extra points by being fastest qualifier and taking heat race wins earlier in the night.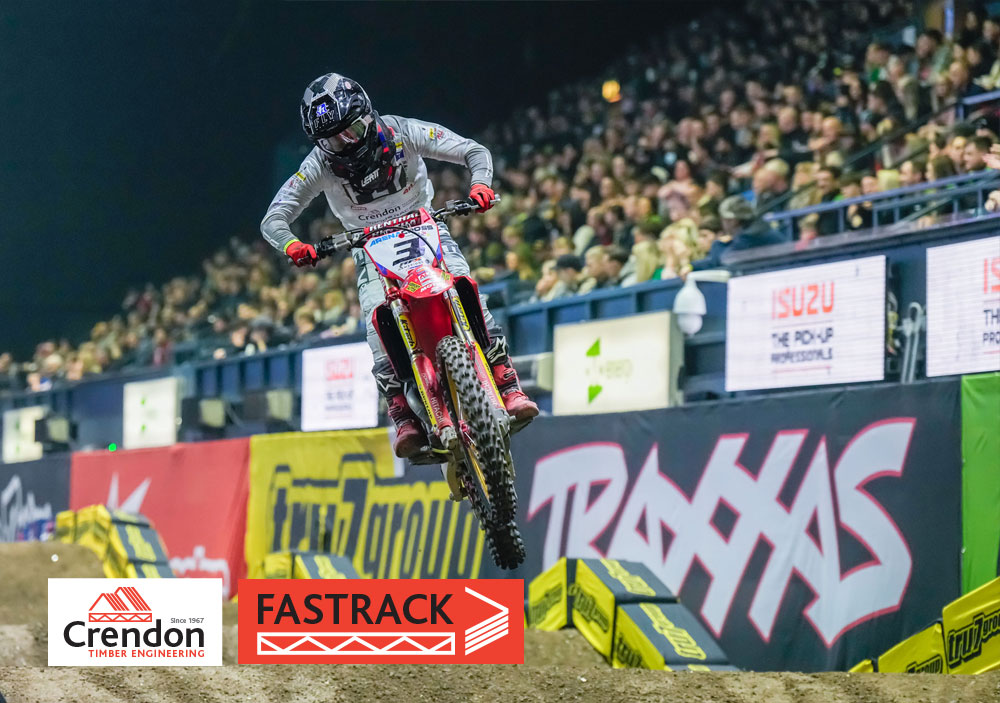 Mewse said: "That was a cool race. I enjoyed it a lot, and I wanted to win the final tonight – it's all I could do. But congratulations to Tommy on the title.
"I didn't get the best of starts – I've been struggling a bit lately as I find that with Arenacross gearing it's more difficult. I'm so frustrated I take so long to get into these races. I struggle in the beginning. But overall it was a fantastic night and I came away with what I wanted to – to win. I was a bit disappointed not to win the title but it's all learning. And I'll bring it next year! What an incredible series – the most fun I've had on a bike in a long time."
Gibert said: "It's been a bit up and down and didn't really know what to expect when we started this Arenacross championship. But we still came away with the team win. I went in for the kill on Jack on last couple of corners but went down. I know what to expect now and it's a great experience. I want to come back next year."
Team boss, triple world 500 champion Dave Thorpe said: "It's been amazing. When Conrad and Josh said they wanted to do Arenacross, it wasn't in our plan but they were adamant they wanted to have a go. It's always a lot of stress but it's been well worth it. The racing has been brilliant, the show excellent and we're happy to be involved with the series. It brings a lot to our partners like Crendon Fastrack, Hitachi Construction Machinery, Tru7 and Fly – it gives them an opportunity to be involved with racing in a great environment. And well done to Tommy, he's a great champion."
Tru7 Honda Racing Academy rider/ manager Jake Nicholls also had a memorable night, with the highlight being a start-to-finish race win in the final heat of the series. He was pressured all the way to the flag but used his vast experience and racecraft to take a popular victory. In the final he battled hard for eighth place to take a commendable ninth in the series overall, despite missing a round when he crashed out.
He said: "That heat race was alright – the highlight of the night for me. In the main my start device plastic had ripped off so I had no hope of a good start. But I was in amongst it and had a lot of fun. It was slippery and I was fighting the bike a lot. It's nice to come out unscathed."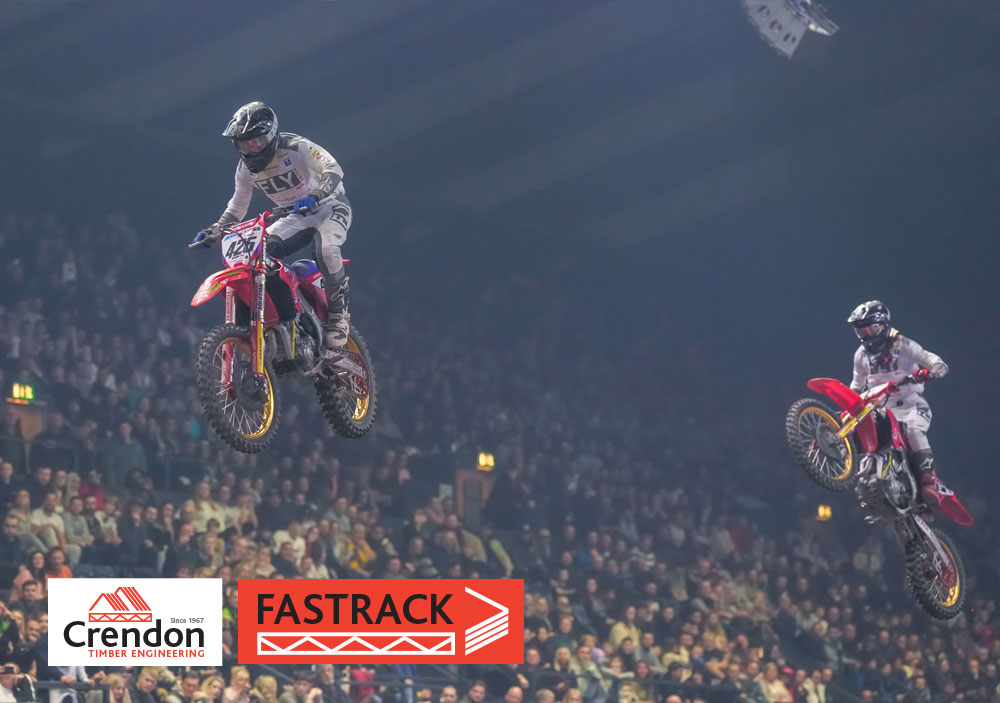 Wembley Arena AX Pro overall results:
1 Conrad Mewse – Crendon Fastrack Honda
2 Tommy Searle
3 Jack Brunell
4 Joe Clayton
5 Josh Gilbert – Crendon Fastrack Honda
6 Mel Pocock
7 Shaun Simpson
8 Jake Nicholls – Tru7 Honda Racing Academy
9 Dylan Woodcock
10 Martin Barr
Final championship positions
1 Tommy Searle 86
2 Conrad Mewse 84 – Crendon Fastrack Honda
3 Jack Brunell 57
4 Josh Gilbert 55 – Crendon Fastrack Honda
5 Joe Clayton 46
6 Elliott Banks-Browne 41
7 Adam Chatfield 35
8 Mel Pocock 22
9 Jake Nicholls 22 – Tru7 Honda Racing Academy
10 Martin Barr 20
Final team championship
1 Crendon Fastrack Honda 136
2 GTCI Revo Kawasaki 101
3 Mark McCann 64 84
4 Troy Lee Designs GasGas 55
5 Darjen Kawasaki 37
6 FUS Geartec 34
7 Gabriel KTM 22
8 Tru7 Honda Racing Academy 21
9 Apico Factory Racing 20
10 Allmoto Mega Bikes 20