Six Home Wins in a Row now for Crendon FASTRACK Peterborough Speedway – PANTHERS 49 KINGS'S LYNN 41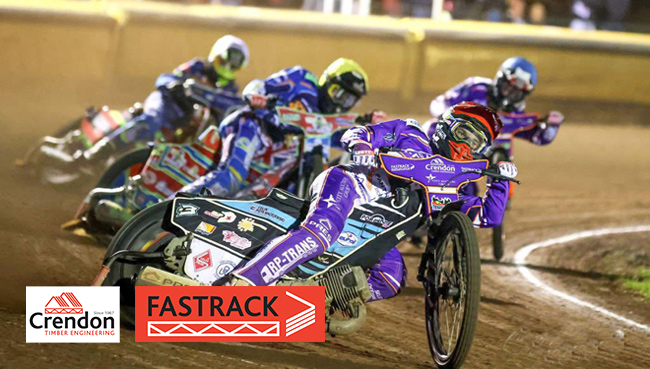 PETERBOROUGH rounded off their Sports Insure Premiership campaign with another solid team effort to see off King's Lynn 49-41.
The last league match at the East of England Arena saw the Crendon Panthers make it six home wins in succession at the end of the season to move on to 20 points in the final league standings.
The Stars provided spirited opposition with No.1 Robert Lambert giving a truly World class performance on his way to a six-ride paid maximum.
Lambert produced the ride of the night with a brilliant third-to-first effort in Heat 10 to pass Richard Lawson and Niels-Kristian Iversen, and he was also involved in 5-1s to the visitors in the first and last races of the night.
Panthers reserves Jordan Jenkins and Ben Cook redressed the early balance with a 5-1 in Heat 2, and they went ahead in Heat 4 as Jenkins held on for third place ahead of Michael Palm Toft despite a late puncture.
But it was level again after five with Lewis Kerr holding Chris Harris at bay as Lambert won his second ride, before two mid-meeting 5-1s gave Panthers control.
First in Heat 7, Cook and Vadim Tarasenko swept to a clear maximum over Simon Lambert and Connor Mountain, and then in Heat 9 it was Harris and Benjamin Basso who got the better of Palm Toft.
Then came Robert Lambert's inside move to defeat Iversen and Lawson when racing as a tactical substitute, but team-mate Palm Toft was at the back so the Stars were unable to make any inroads.
Lambert won again in a hard-fought Heat 11 as Tarasenko and Cook battled their way past Lewis Kerr for a 3-3, and Panthers moved closer to victory as Basso headed up a 4-2 in Heat 12 with Jenkins passing Simon Lambert for third place.
The Stars responded with a 4-2 in Heat 13 before Panthers sealed the deal in Heat 14 with Cook ahead from the start whilst Harris steamed around Mountain and Anders Rowe into the third bend for a 5-1.
It was the visitors who had the final say in Heat 15 with the outstanding Robert Lambert throttling back on the last lap to allow former Panthers rider Palm Toft the honour of winning the final league race at the venue.
Peterborough manager Rob Lyon said: "The track was a bit of a leveller tonight, it was a lot slicker than Monday, and obviously with the influence of Robert we knew it would be a tougher meeting.
"But the boys pulled through again and we got the win, which is the main thing, and there was good racing to boot.
"Credit to the fans for sticking by the club and the team this year, and walking through the grandstand afterwards it was almost like we were in the play-offs because in the last few weeks there's been such a feel-good factor for everyone.
"It's a good way to finish the season, and we've got to take as many positives as we can out of it."
PETERBOROUGH 49: Ben Cook 10+2, Benjamin Basso 9+1, Niels-Kristian Iversen 8, Chris Harris 7+1, Vadim Tarasenko 6+2, Jordan Jenkins 5, Richard Lawson 4+2.
KING'S LYNN 41: Robert Lambert 17+1, Michael Palm Toft 8, Anders Rowe 7, Lewis Kerr 4+2, Simon Lambert 4, Connor Mountain 1, Emil Breum r/r.
Peterborough win the aggregate point
*PETERBOROUGH Speedway are delighted to be supported by Crendon Timber as team sponsors and City Auction Group and PurpleRock as club sponsors.
*PETERBOROUGH'S Farewell to the Showground meeting has been set for Saturday October 7, with a 7pm start.
Should the weather intervene with that planned staging, the reserved date is Sunday October 8 at 3pm.