Red plates and race win for Crendon Fastrack Honda team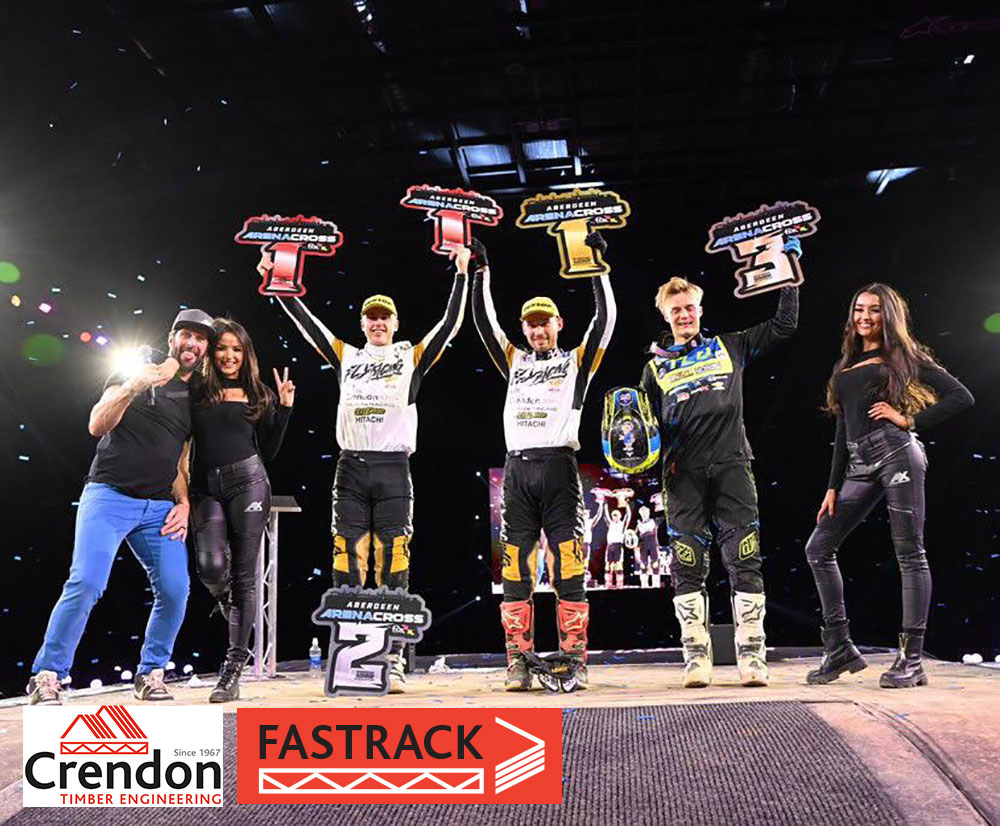 A stunning result in Scotland saw the Crendon Fastrack Honda team leave the Aberdeen rounds of the UK Arenacross as overall championship leader, race winner and leader of the Team Championship thanks to stunning performances by both Conrad Mewse and Josh Gilbert.
Just as at the opening rounds in Belfast last weekend, the opening day saw the squad riding well but taking time to settle in to the brand new track, with Mewse winning a heat and taking second place in the final while Gilbert had a disappointing start and battled to seventh.
Then on day two, once again it was time for the team to shine. Both riders qualified straight through to the final, with Mewse taking a second and a heat win while Gilbert had a third and fourth finishes.
But the final was simply incredible as Mewse put the pressure on race leader Tommy Searle at the head of the pack after scrapping past Elliott Banks-Browne. Mewse matched Searle's pace then at a third race distance, he dived inside to take the lead – but the riders made contact and both fell. Although they quickly remounted, it was Banks-Browne who led but Gilbert was the man on the move. He'd picked off his rivals as he moved through the pack and took the lead on lap nine of the 14-lap race, setting the fastest lap of the race by more than two seconds on the new 2023 Honda CRF450R.
As the sold-out crowd went wild, Gilbert kept his head and maintained the lead to the flag, while Mewse put on a magnificent ride to take second place from Jack Brunell on the very last lap.
It was the first race win for the team for Gilbert, who stays third in the championship, while Mewse was the best performer over the two nights with a pair of second places and he took the red leader's plate off rival Searle. And with both Crendon Fastrack Honda rider on top of the podium, it helped the team stretch out their lead in the Team Championship with four of the six rounds now completed.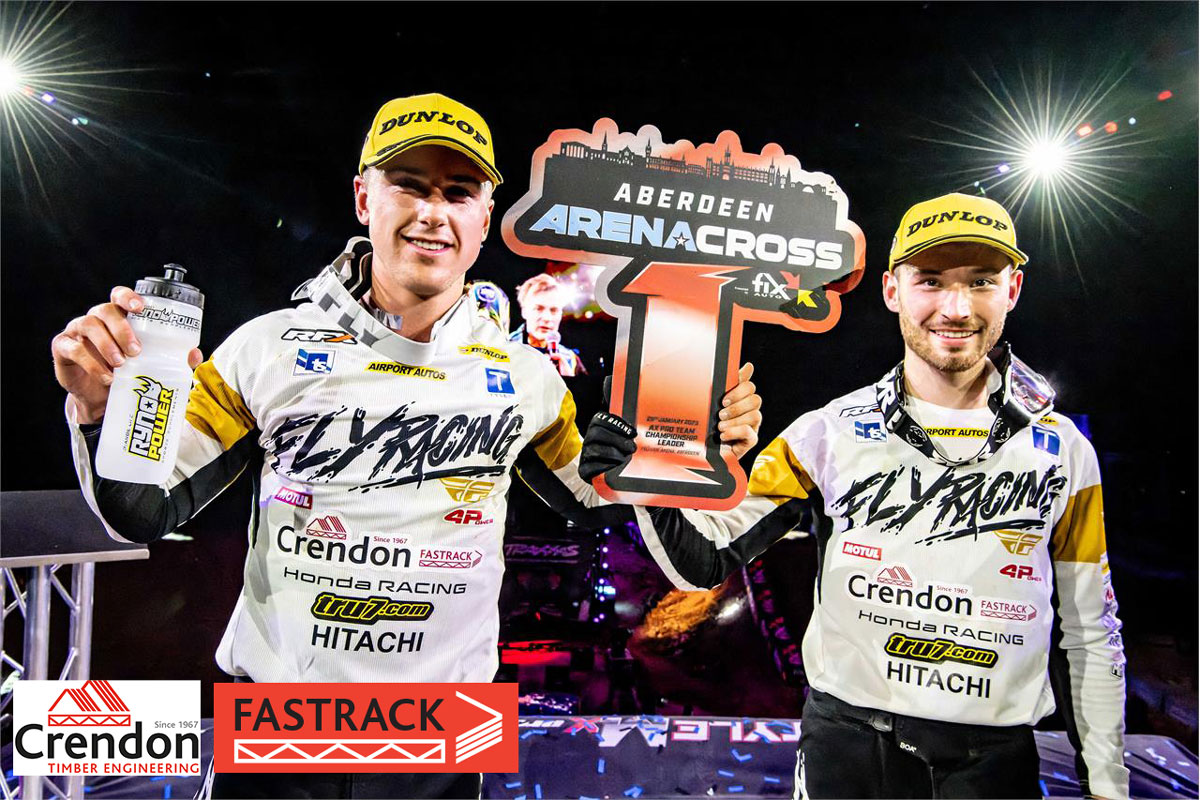 Conrad Mewse and Josh Gilbert enjoy their moment on the podium
Mewse said: "That was a tough race as I didn't get the greatest of starts. I got into second behind Tommy then Elliott Banks-Browne passed me but I quickly passed him back.
"I caught up to Tommy again. I have a lot of respect for him and we're good friends. I went to go inside him and ran it in hot, and I cut the turn quite a lot to let him know I was there as I didn't want to T-bone him and cut him in half. I kind of stopped in front of him but he realised too late and we came together. But what a race.
"So great to get a one-two for the Crendon Fastrack Honda team who really deserve this – they've spent hours on the bike and it's really fantastic. Aberdeen was an absolute pleasure!"
Gilbert said: "I didn't sleep much after my podium at Belfast so I won't get much sleep tonight with that win. I have been struggling to feel comfortable at Belfast and here yesterday because I'm not used to the tight tracks and the intensity. It's been taking its toll.
"That final was the first time I felt relaxed and that I could ride like I know I can. I didn't make too many mistakes, got the triples right and came away with the win which wasn't expected! It goes to show at Arenacross, anything can happen if you hang in there."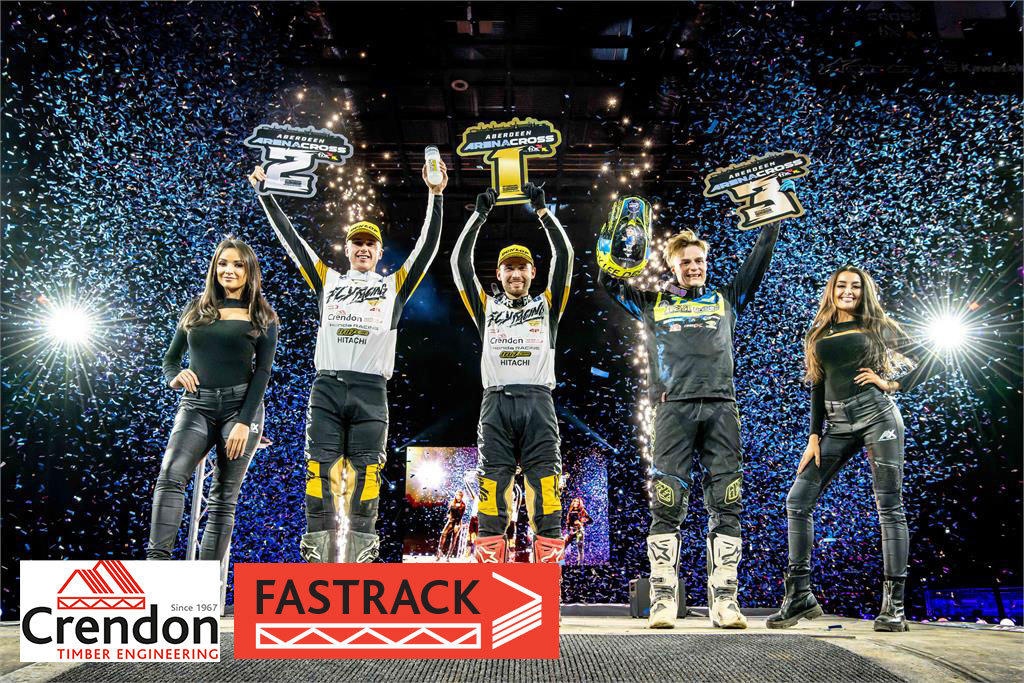 Josh Gilbert celebrates his race win from team-mate Conrad Mewse
Team manager triple world 500 champion Dave Thorpe said: "I am so pleased for Conrad and Josh with their fantastic results and performances. They have both worked so hard over the last month to get ready for this and it is really paying off. Our team of Ryan, Willy, Rob and Tim have put so much effort in behind the scenes too, but none of this would be possible without the support of our amazing partners. Thank you to everyone involved."
One of the team's sponsor and head of the Tru7 Honda Racing Academy team, Jake Nicholls, is racing a Honda CRF250R in the series but missed the first day of action as he was ill. He came back to race on the second day and was leading his heat when he fell and banged his head hard. He wisely retired from the event.
Superfinal Day 1 results:
1 Tommy Searle
2 Conrad Mewse – Crendon Fastrack Honda
3 Jack Brunell
4 Joe Clayton
5 Elliott Banks-Browne
6 Shaun Simpson
7 Josh Gilbert – Crendon Fastrack Honda
8 Adam Chatfield
9 Mathew Bayliss
10 Jason Meara
Day 2:
1 Josh Gilbert – Crendon Fastrack Honda
2 Conrad Mewse – Crendon Fastrack Honda
3 Jack Brunell
4 Elliott Banks-Browne
5 Tommy Searle
6 Joe Clayton
7 Adam Chatfield
8 Martin Barr
9 Jayden Ashwell
10 Mel Pocock
Championship positions after four rounds:
1 Conrad Mewse 56 – Crendon Fastrack Honda
2 Tommy Searle 55
3 Josh Gilbert 42 – Crendon Fastrack Honda
4 Jack Brunell 34
5 Adam Chatfield 30
6 Elliott Banks-Browne 29
7 Joe Clayton 25
8 Mathew Bayliss 18
9 Jason Meara 17
10 Martin Barr 15