Podium success for Searle in MX Nationals finale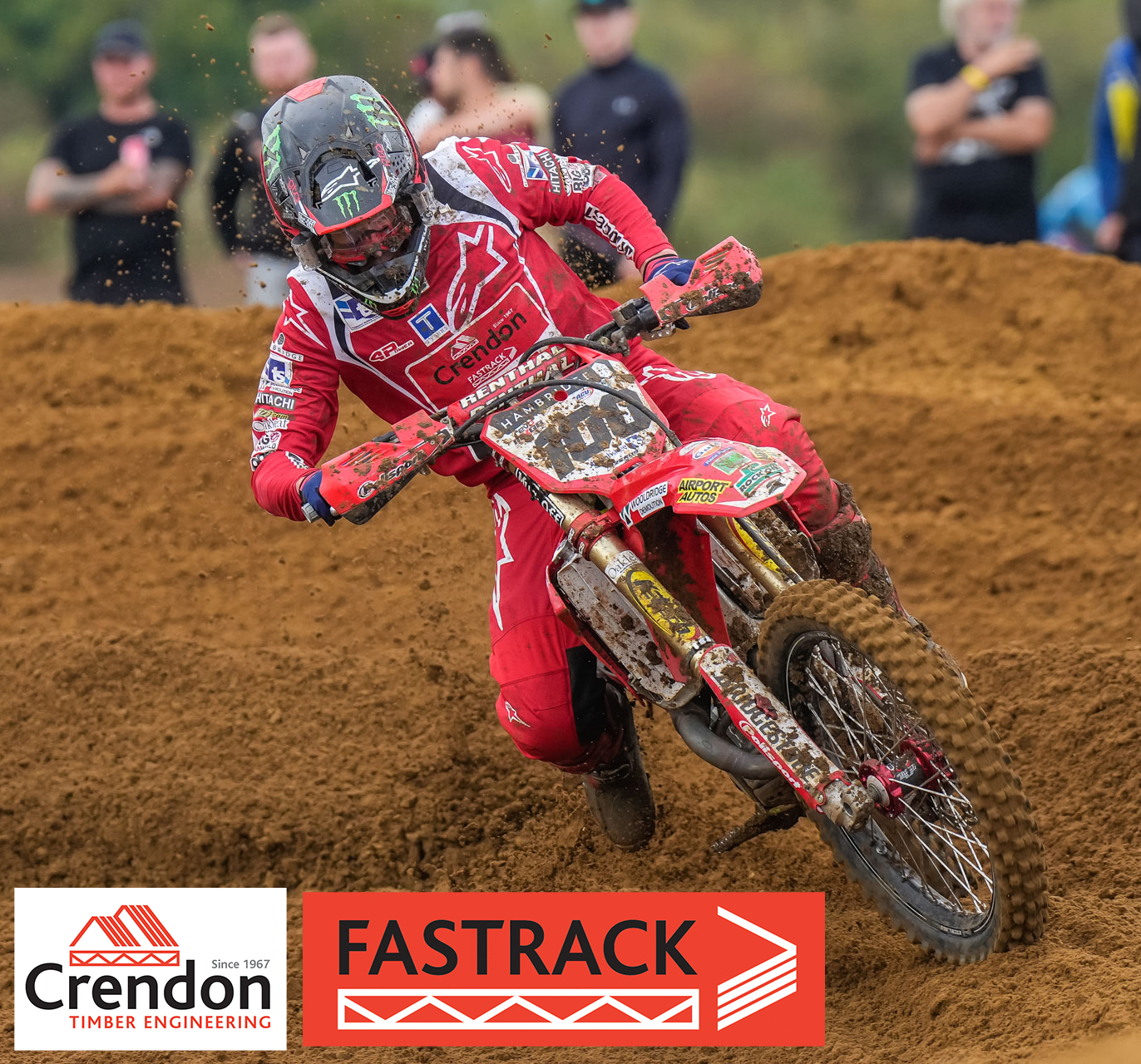 Crendon Fastrack Honda rider Tommy Searle continued his stunning run of podium finishes by taking his Honda CRF450R to third overall in the MX Nationals finale on Sunday. Riding on a brand new track near Abingdon in Oxfordshire, he took a pair of third place finishes.
With the MX Nationals championship already won by Harri Kullas at the last round where Searle was too ill to race, the 33-year-old Brit rode two consistent motos as he gets ready for Sunday's forthcoming British championship final where he holds a strong points lead.
In the first moto at the fast and spectacular Oxford Moto Park circuit, Searle came out of the first corner in second place but was demoted as Conrad Mewse and Martin Barr slipped by on the first lap. Searle retaliated and fought his way past Barr but by then the leading duo had pulled away so the Honda man took a sensible third.
Second time out Searle didn't get the best jump off the line but quickly got into third place on the opening lap. He kept Josh Gilbert at bay to hold onto third for third overall, which gave Searle fourth in the championship despite missing a round.
Searle said: "I felt OK but struggled a bit to set up the bike, as this is a real GP-style track that we don't normally ride on in the UK, with some big jumps and hard hits. The made the track a bit tricky so didn't want to take too many risks – I was just doing what I needed to do. I was looking after myself as I have the British championship final next week then the Motocross of Nations at Red Bud for Team GB.
"But it was so nice the guys put on an event at a new track like this which is a credit to them. I definitely want to come back and race here again."
A surprise late entrant to the event was Jake Nicholls, who officially retired from full-time professional racing mid-way through this season after getting injured. Riding a stock Honda CRF250R with just an aftermarket exhaust on it, Nicholls' bike sported the all-black livery that the new Tru7 Honda Racing Academy team will use in 2023. He will run the team in conjunction with Crendon Fastrack Honda's team boss Dave Thorpe, and was having a ride just for fun.
"I raced the Vets Nations at Foxhill last week and got the buzz for racing again," said Nicholls. "I'm not training like I was before and I wasn't worried about where I came. I came to have a bit of fun.
"I had a steady start but got better as the day went on. In the first race I was eighth then in the second I changed my suspension and had a better start. And the track got more technical which suits me. I had a blinder and got third! I'll do some more MX2 races next year too."
Crendon Fastrack Honda team manager, triple world 500 champion Dave Thorpe, said: "I have to say congratulations and well done to everyone involved with this brand new circuit which is just incredible. It's always exciting when a new track comes onto the calendar and this new Oxford Moto Park is a real stunner. The amount of work everyone has put to create a top-class track is amazing.
"For our team, Tommy had a couple of solid rides without taking any unnecessary risks to made sure he came away unscathed. All our focus is on the last round of the British championship next week at Landrake.
"And it was really great to see Jake riding again, just for the love of racing. It's testament to his skills and how good a stock Honda CRF250R is that he took a third place, too."
MX Nationals championship round six, Oxford Moto Parc.
MX1 overall:
1 Harri Kullas 47
2 Conrad Mewse 47
3 Tommy Searle Crendon Fastrack Honda 40
4 Josh Gilbert 34
5 Martin Barr 34
6 Sam Nunn 27
7 Brad Todd 27
8 Dan Thornhill 25
9 Stuart Edmonds 24
10 Gavin Stevenson 18
Final championship positions:
1 Harri Kullas 282
2 Josh Gilbert 204
3 Martin Barr 186
4 Tommy Searle Crendon Fastrack Honda 179
5 Brad Todd 175
6 Petar Petrov 145
7 John Adamson 144
8 Glen McCormick 132
9 Dan Thornhill 119
10 Ben Edwards 100