Crendon FASTRACK Honda Rider Conrad Mews clinches the 2023 MX Nationals Crown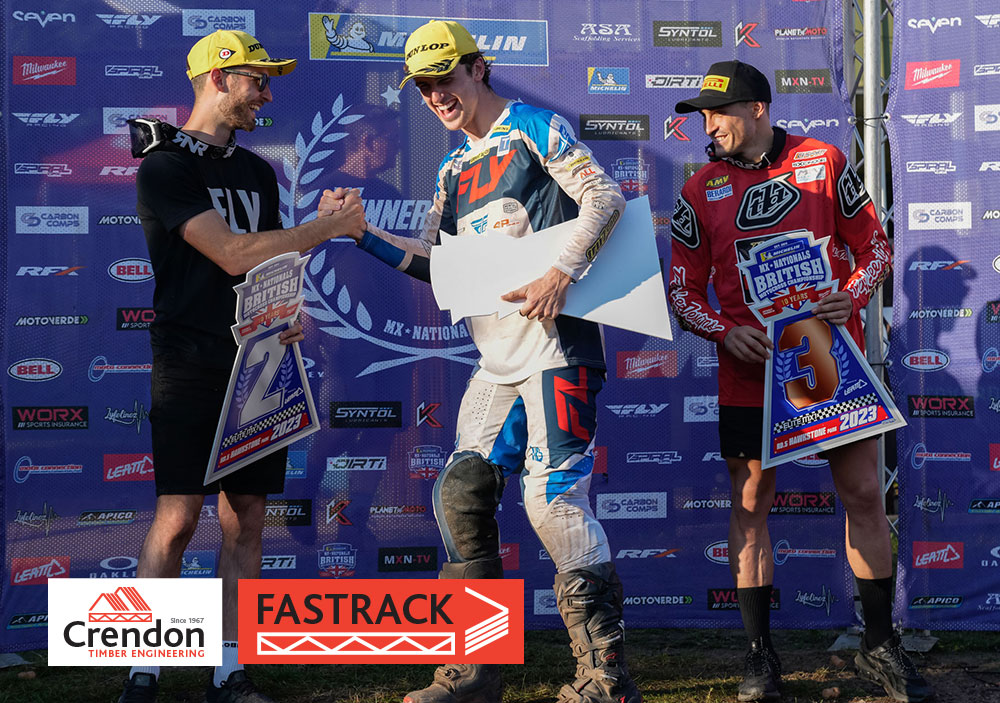 It was yet another Crendon Fastrack Honda one-two as Conrad Mewse took the overall win in the MX Nationals finale at Hawkstone Park to clinch his first ever MX1 title. And his team-mate Josh Gilbert took a well-deserved second place on the day to cement the silver medal in the championship.
It was an incredible end to the MX Nationals season as both riders have been together on the podium at every single national-level championship event in a record-breaking show of dominance in British racing. No other rider has taken an overall win at any round of the MX Nationals this season, a testament to the team and the potent Honda CRF450R.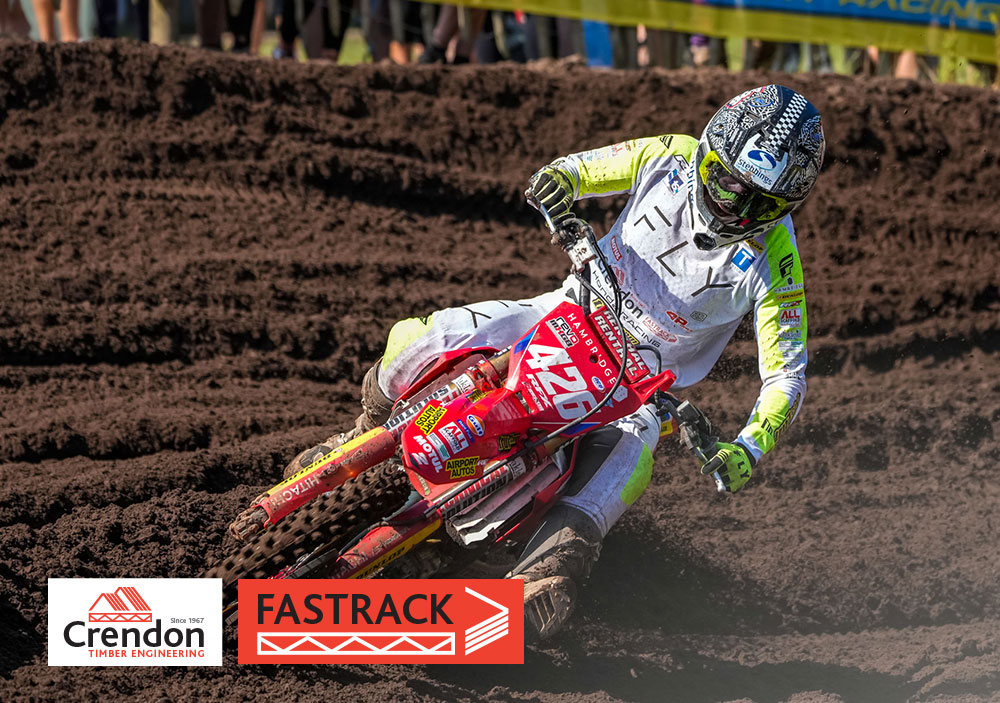 Mewse took his first title on a Honda CRF450R
Despite the success of the Crendon Fastrack Honda riders on Sunday, it was a show of true grit and determination as both arrived at the track carrying injuries from testing spills in the run up to the event. Mewse, still in pain from a tailbone injury just before the last round, was also nursing a painful rib from a crash that made it hard to breathe. And Gilbert had only just started riding again after hurting his wrist several weeks ago. With the scorching temperatures and the rough sand track taking its toll on all riders, it makes the achievements of the riders even more impressive.
The pair started well in qualifying, with Mewse on pole with a time almost two seconds faster than second place Gilbert. Then in the opening moto, the Honda duo were in the leading group right from the start, with Gilbert making an early move to pass holeshot man Harri Kullas. Mewse soon pounced on Kullas then set off to hunt down the leader Gilbert. The red plate holder took the lead on the second lap and eased away to victory. His fastest lap was almost three seconds quicker than that of next best Gilbert.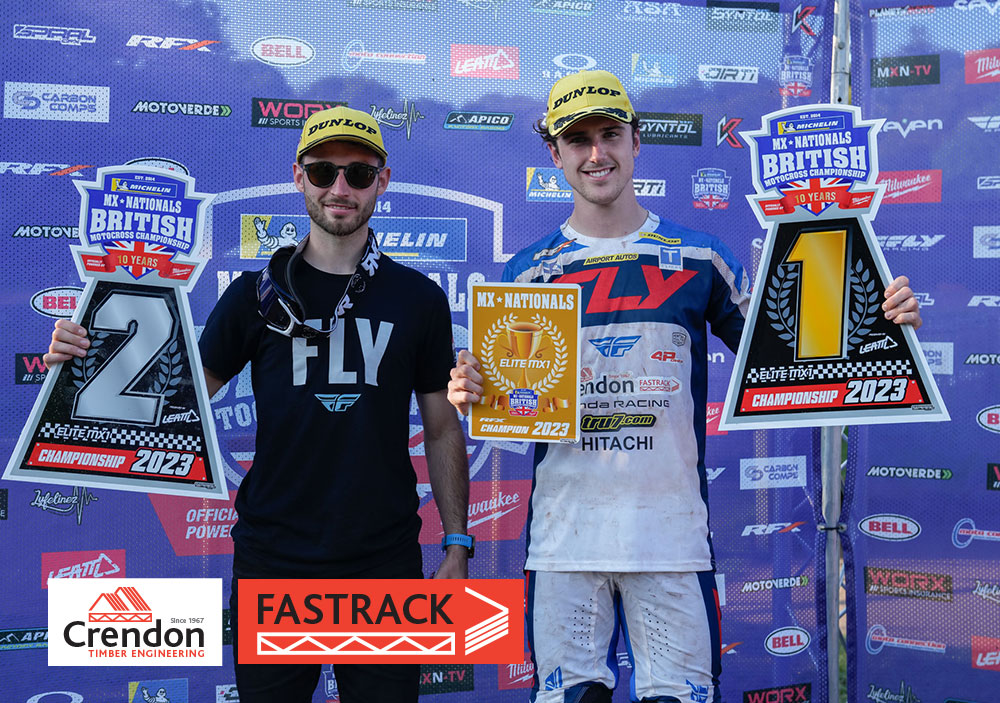 The Crendon Fastrack Honda team dominated the event and the championship
Mewse hoped race two would be a similarly dominant performance as he held a 13-point lead, but it was not to be. He gated well but then went down in the first corner, remounting last. He rode aggressively to make passes as quickly as possible. Stuck in traffic, he ran off the track after clashes with slower riders. He ended the first lap 23rd as he made his way through the field.
At the front, Ivo Monticelli led from Gilbert who put the pressure on constantly but couldn't make a pass. It took until lap six for Mewse to come to third place, then he picked off Kullas and Barr for third. With two laps left, Mewse managed to get by Gilbert them Monticelli to take the lead and it looked like he was set for another perfect double. But on the last Mewse went down and Monticelli sneaked by as Mewse picked himself up.  The Italian took his first race win of the year, but Mewse took second spot which was enough for the overall and to clinch the title. Gilbert crossed the line third to take runner-up spot overall and also second in the championship.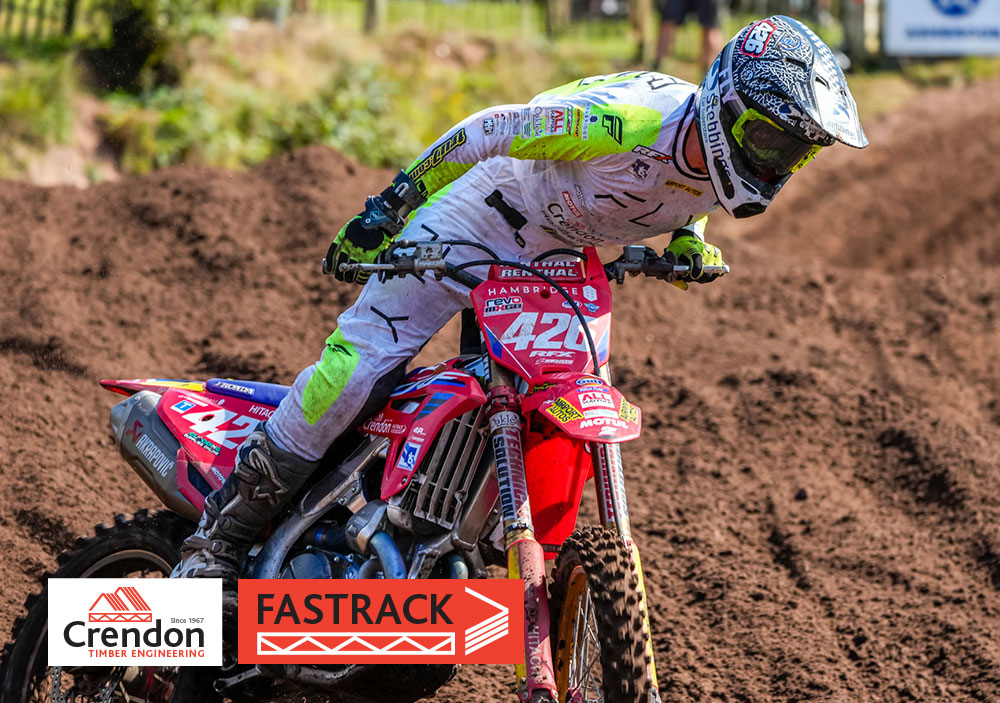 Mewse rode in pain but was still incredible
Mewse said: "It's nice to get one wrapped up and be MX1 champion, especially in my first year on the Honda and with the team that have been absolutely fantastic. But today I was in a lot of pain. I had a small fracture to my coccyx four weeks ago so l was trying to recover from that and was sitting awkwardly on the bike  to protect my injury. Then I had another big crash so it's been a tough few weeks.
"Today I was fastest in qualifying in the first race got an OK start in fourth. I got into the lead on lap two then I rode steady and my won. I didn't want to push too hard.
"The plan for the second race was do what I needed to do and keep myself out of trouble. But it didn't go that way and I went down on the start so I had to come from last. I was picking myself up off the ground and thinking 'it's now or never.' But I had an awesome race and
got all way back into the lead. I took the one lap board then got to the top of the hill and the bike came out of my hands exiting the corner. Ivo Monticelli went by. I'd done all this work but finished second. So I had 1-2 results which gave me was overall and the championshjp so I'm very happy with that."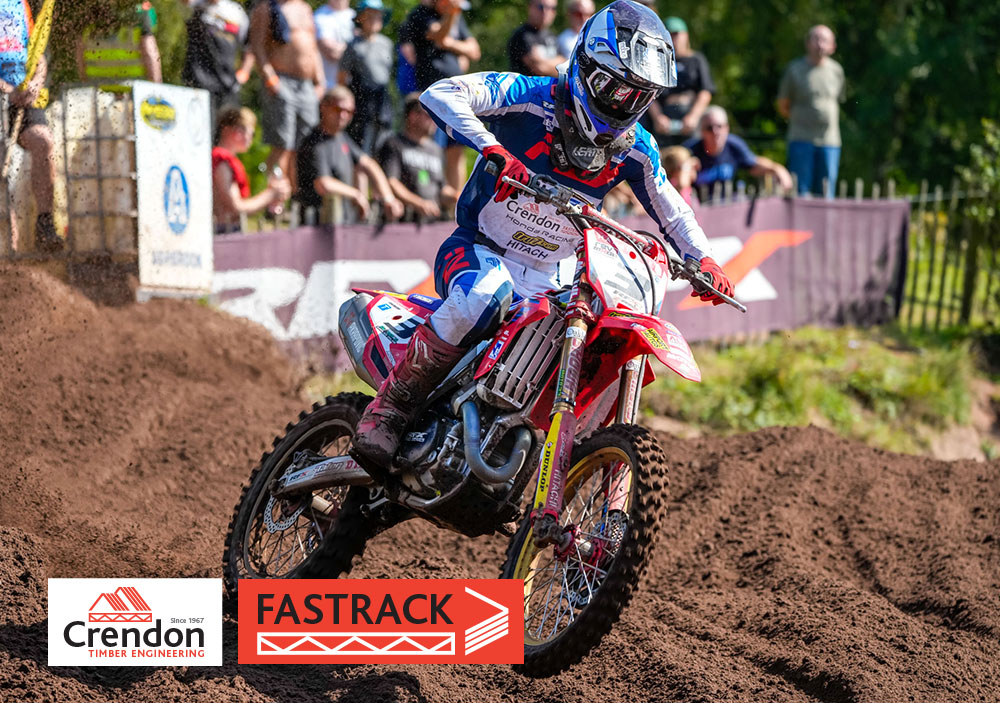 Gilbert cemented his second place in the MX Nationals series
Gilbert said: "It was a tough day at the office. I knew it was going to be tricky coming into this weekend as I had a crash after the last round at Cusses.  I had some fluid that built up around my wrist and I just couldn't ride.
"I only rode one day this week and did a couple of motos yesterday to get some bike time in before this race. So not ideal prep, especially with the heat and how savage this track is. I'm not a fan of this track even on a good day!
"I was on the back foot so I've got to be happy with second overall. And to go one-two in the championship is good for Honda. And of course, many congrats to Conrad for taking the title."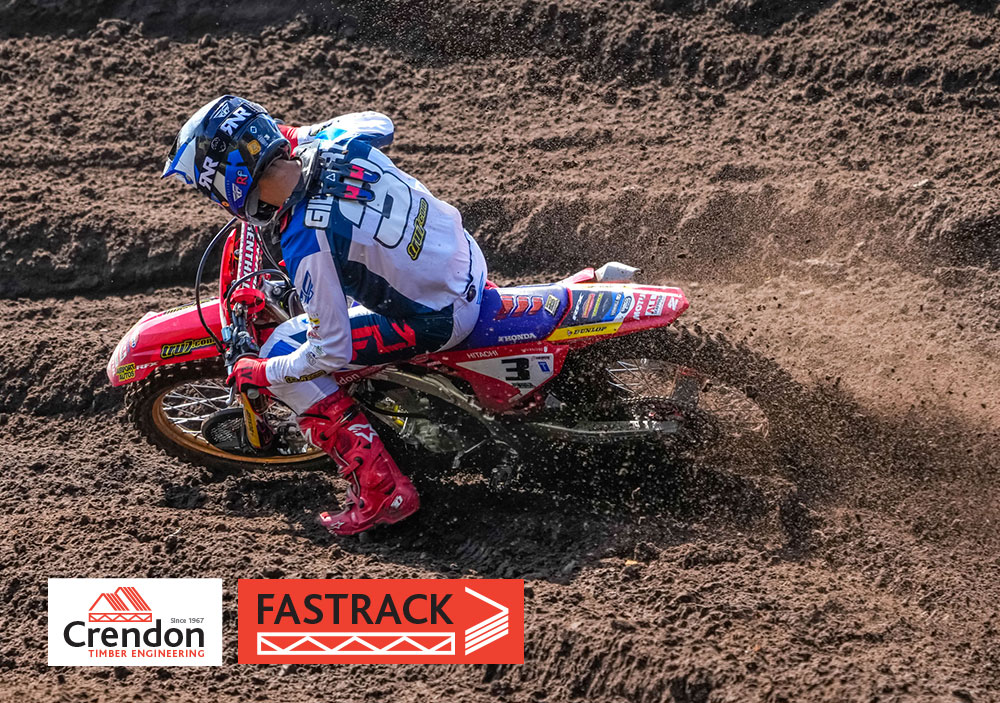 Gilbert carves through the Hawkstone sand
Team manager Dave Thorpe said: "It was always going to be a tough event as both riders were carrying injuries, and Hawkstone is a punishing track especially when it's so hot. But the riders performed incredibly well to take first and second on the day, and first and second in the championship.
"With Conrad, it's easy to forget it was his first full season in MX1 as he has performed incredibly well, like the true professional he is. The Honda CRF450R is such a great package – the best bike on the track – and with the hard work put in by Conrad and the team of Rob, Ryan and Willie, it's been an unbeatable package.
"And of course Josh deserves congratulations for his performances all year, taking it down to the final moto of the MX Nationals series. Both riders have been truly exceptional. And the team, our technical partners and sponsors have all paid a big part in our success."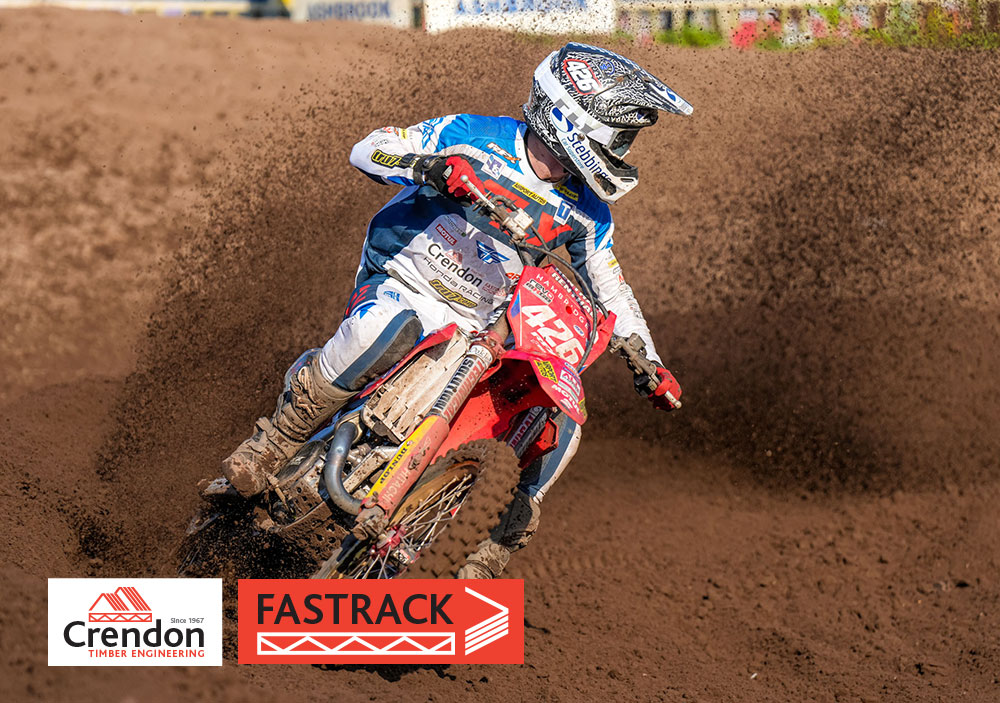 Mewse looks to see if anyone can catch him
MX Nationals championship round five, MX1 overall:
1 Conrad Mewse Crendon Fastrack Honda  47
2 Josh Gilbert Crendon Fastrack Honda 42
3 Ivo Monticelli 41
4 Tristan Purdon 36
5 Harri Kullas 36
6 Tom Grimshaw 29
7 Martin Barr 27
8 Jamie Carpenter 26
9 Liam Knight 25
10 Charlie Putnam 22
12 Callum Green Tru7 Honda Racing Academy 17
Final championship points:
1 Conrad Mewse Crendon Fastrack Honda 236
2 Josh Gilbert Crendon Fastrack Honda 221
3 Harri Kullas 198
4 Tom Grimshaw 145
5 Ivo Monticelli 121
6 Martin Barr 101
7 Tristan Purdon 98
8 Jamie Carpenter 88
9 Charlie Putnam 85
10 Stu Edmonds 85
11 Callum Green Tru7 Honda Racing Academy 83