Mewse and Gilbert join Crendon Fastrack Honda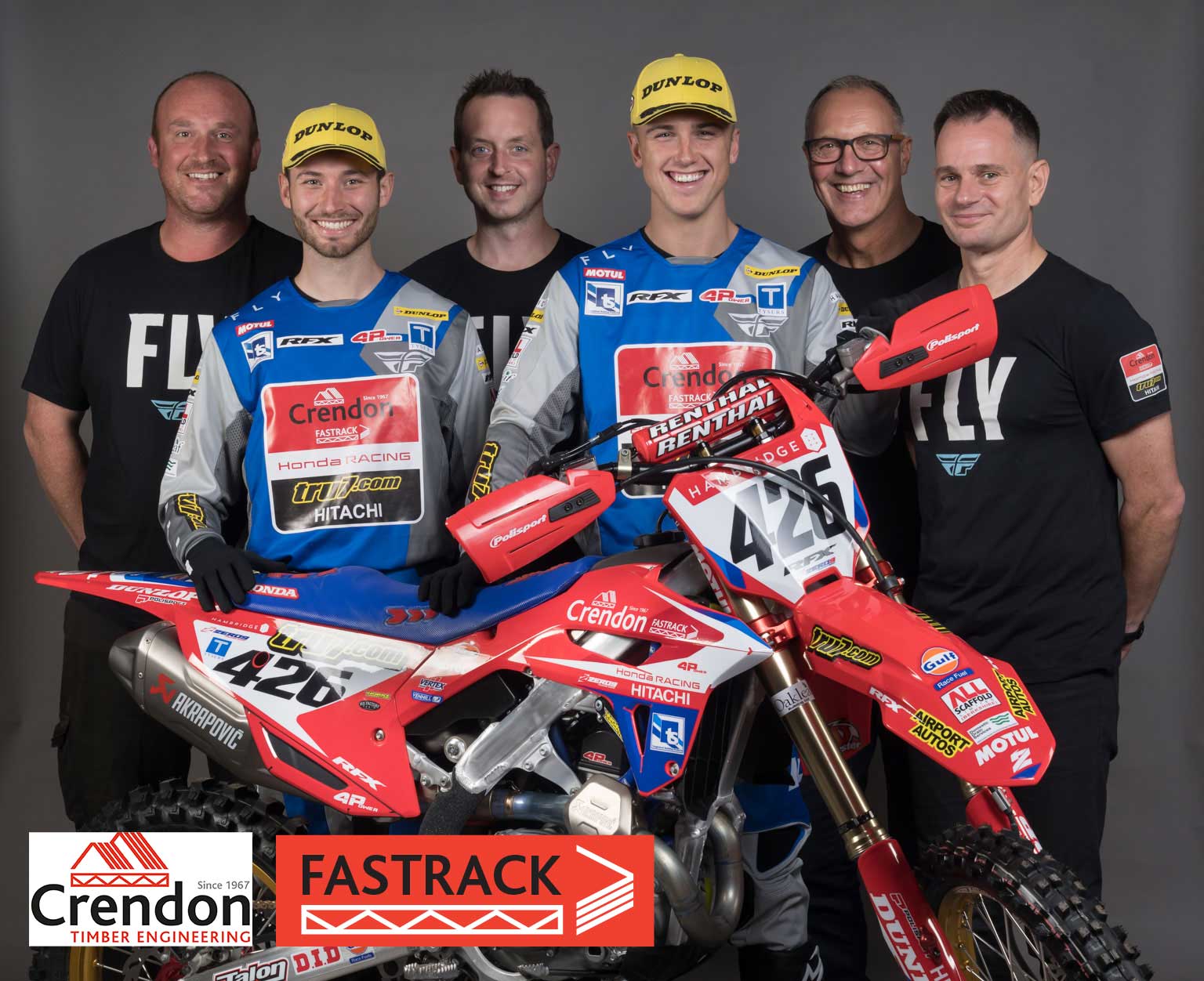 The championship-winning Crendon Fastrack Honda team have a fresh, younger MX1 squad for 2023 after signing up Conrad Mewse and Josh Gilbert to race the new-look 50th Anniversary Honda CRF450R in the British championship and MX Nationals.
Triple British MX2 champion Mewse will join Dave Thorpe's squad as he makes a full-time step up to the MX1 class. It's the first time the 23-year-old will race a Japanese motorcycle after contesting the MX2 world championship on European bikes since 2016. After clinching the 2022 UK MX2 crown, he made a move up to a 450 to prepare for next season and has instantly been challenging for wins.
Conrad Mewse and Josh Gilbert – together in the Crendon Fastrack Honda team in 2023
For 24-year-old Gilbert, it is a welcome return to the Honda team that saw him challenge for the British MX2 title in 2018 and 2019. Since then, he moved up to the 450 class and has contested domestic races, GPs and several American AMA Nationals. He ended 2022 on a high with career-best 12th in the final AMA National at Ironman and a win in the final British championship race of the year at Landrake.
Gilbert and former 85cc World Junior champion Mewse – who was part of Team GB which finished on the podium at the 2021 Motocross of Nations in Italy – live near the team's base in Devon. Mewse hails from Somerset and Gilbert from Cornwall.
Both riders are looking forward to racing for triple world 500 champion Thorpe and a swap to CRF machinery in what is a milestone year for Honda – 50 years after the first CR production bike was launched. The 2023 bikes feature blue and gold detail touches to pay homage to the great CR range of the 1980s, a look made famous by Thorpe and the factory Honda teams worldwide.
Team manager Dave Thorpe with his new signings
Mewse said: "It's a big change for me as I have raced MX2 GPs all my professional career, to now racing exclusively in the UK on a 450. But I am looking forward to the new challenge of focusing on the British championships and riding the Honda CRF450R.
"The Crendon Fastrack Honda team is the most professional in the paddock and is totally geared towards winning in the UK. I'm looking forward to working with Dave Thorpe and the whole team."
The Crendon Fastrack Honda CRF450R in its new colours for the forthcoming season 
Gilbert said: "I'm really excited to be back on a Honda – it's the brand I grew up on. And of course I know the team well. It's such a professional, well-organised team and everyone is so friendly.
"I have really love riding a 450 – I always have. I know the CRF450R is a well-proven winner and the team really know how to put a race bike together.
"I'm looking forward to focusing on the British championship which has seen a lot of positive changes and is world-renowned as a great series. I've also raced with Conrad since we were both on 85s and he's a very clean rider. I'm sure we'll have a great season and have a lot of fun racing."
Josh Gilbert makes a welcome return to Honda
On the plans for 2023, Neil Fletcher, Head of Motorcycles at Honda UK commented: "We are really excited to see what 2023 holds for us. We've signed young yet already very fast and established riders and we are all confident they'll be contending at the front right from the very start. Developing young riders within the various motorcycle race series that we are involved in, whether on or off road, is very important to the business and we can't wait for the season to start. They've a high benchmark to follow as Tommy, Dave and the whole team did an amazing job to win three consecutive titles and we'll all be aiming for another championship victory next year."
New look for the Crendon Fastrack Honda
Dave Thorpe said: "I am thrilled to sign up both these immensely talented racers for the Crendon Fastrack Honda team and I believe both have the tools needed to challenge for the British championship.
"Conrad is clearly one of the best riders the UK has produced in recent years and he will be a huge asset to the team and to racing in Britain. We know how fast Josh is on a 450, and now he has the best bike on the track he will be even harder to beat.
"I look forward to seeing what Conrad and Josh will be able to do on the Honda CRF450R. It's going to be a great year and we are incredibly excited to welcome them to the squad.
"I'm also very pleased to attract top talents like this away from GPs to commit to racing on home soil. When Jake Nicholls stepped away from GPs in 2018, he wanted to be with the best UK team so he joined us. And when Tommy Searle decided he wanted to exit MXGPs in 2020, the Crendon Fastrack team was a natural fit for him. Now with Conrad and Josh, who have long professional racing careers ahead, it's testament to the high level of UK racing and the professionalism of the Crendon Fastrack Honda team and all our partners."
British MX2 champ Conrad Mewse is excited for the season ahead as he moves up to the 450
The new line-up marks the end of a successful three-year deal with Tommy Searle. The 33-year-old recently clinched the ACU British motocross championship crown, marking back-to-back MX1 titles for the Crendon Fastrack Honda team.
Searle's first season with the team was in 2020, when the series didn't run due to the pandemic. The only national championship to run that year was the MX Nationals and Searle won that title – his first on Honda.
Thorpe said: "On behalf of everyone involved in the team, I would like to thank Tommy for his time with us and his incredible championships wins. He is such a naturally-talented rider, so very fast and is very popular with the fans, too.
"I have always admired him as a racer and it has been great to work these three years with him. I wish him all the best for the future."
The team's other MX1 rider in 2022, Jake Nicholls, retired from full-time professional racing this year but will be coaching and supporting the new Tru7 Honda Racing Academy team in 2023. As recently announced, Charlie Heyman will race the Honda CRF250R in the MX2 class while Callum Green makes a return to Honda on a CRF450R in the MX1 category.