First Win of the Season for Crendon FASTRACK Peterborough vs Kings Lynn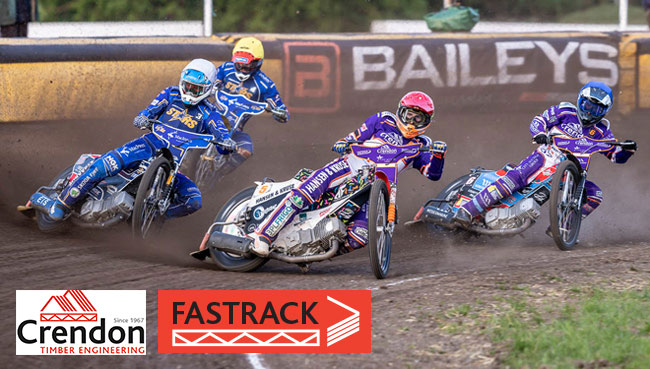 PETERBOROUGH are finally off the mark in the Sports Insure Premiership after a terrific 53-37 local derby win over rivals King's Lynn
The Crendon Panthers in fact only narrowly missed out on taking the aggregate point after losing by 18 at the Adrian Flux Arena last week, but the result was a major confidence boost after such a tough start to the season.
And the victory was headlined by a sensational display at reserve from Ben Cook, who piled up paid-18 from seven rides in his best top-flight performance by a distance, which saw him drop only one point in his first six outings.
Dan Bewley also proved to be a strong guest as expected at No.1 whilst there were solid displays right down the order with Jordan Jenkins making a successful return from injury despite running a last place in Heat 2.
Bewley came from the back to win the opener as the Panthers established an early two point lead, and a series of shared races kept them in front although former Peterborough man Michael Palm Toft slowed in Heat 4 believing he had seen a red light, whilst Jason Edwards took a surprise win over Niels-Kristian Iversen.
Cook combined with Benjamin Basso for the first 5-1 of the night in Heat 5, before Palm Toft just held Bewley at bay in a tight finish to Heat 6 – but another 5-1 followed in the next with Cook roaring through to get the better of Frederik Jakobsen and Krzysztof Kasprzak and team up with Iversen.
Panthers' lead was eight points after a trading of 4-2s with Palm Toft just snatching the win from Cook in Heat 9, and the Dane again took the fight to his old club as he came from the back against Jenkins and Iversen to share Heat 11.
A likely Panthers 5-1 in Heat 13 was again spoiled by Palm Toft, who overhauled Iversen on the run to the line, and his passing moves undoubtedly protected the aggregate point for his side.
Panthers still kept the pressure on with maximum points from Basso and Cook in Heat 14, Cook neatly moving Kasprzak aside, and with the win in the bag another 5-1 in the last would have set up a Super Heat decider for the aggregate point.
However, that man Palm Toft was able to prevent it by splitting Bewley and Cook to leave Panthers just short of that particular target – but delighted to have league points on the board at last.
Co-promoter Carl Johnson said: "We've had a tough start to the season as everybody knows, but bringing in a natural No.1 like Dan lifted the team, and I think that showed.
"The boys rode their hearts out, they wanted it and with it being a local derby it was massive for us. The performance was spot-on from everyone.
"Ben Cook has been steady all season, and we knew when he got dialled in to this place he was going to be super-fast, and he showed that tonight. He was so quick, and having somebody at reserve scoring points like that was a real match-winner.
"Dan was a tremendous guest but the whole team put an effort in, they were riding with a smile on their faces and it was really good to see."
PETERBOROUGH 53: Ben Cook 16+2, Dan Bewley 12+1, Benjamin Basso 8+2, Niels-Kristian Iversen 7+1, Jordan Jenkins 6+1, Hans Andersen 4+1, Richie Worrall r/r.
KING'S LYNN 37: Michael Palm Toft 13, Frederik Jakobsen 7, Jason Edwards 5, Thomas Jorgensen 4, Krzysztof Kasprzak 4, Tom Brennan 3+1, Nicolai Klindt 1.
*PETERBOROUGH Speedway are delighted to be supported by Crendon Timber as team sponsors and City Auction Group and PurpleRock as club sponsors.