Another Win for Crendon FASTRACK Honda in the British MX1 Championship at Lyng, Norfolk
Gilbert takes first British MX1 championship overall
Crendon Fastrack Honda team-mates Josh Gilbert and Conrad Mewse continued their 100% podium success in British national races this year at the rain-hit Revo ACU championship round at Lyng in Norfolk.
This time it was Gilbert on top as he took his first ever MX1 overall in the Revo series, while Mewse was just a single point behind but ended up third. Gilbert's only other British championship overall came when he was with Dave Thorpe's team on a 250 in the MX2 class. This time at Lyng he had an even better day, setting the fastest lap in qualifying then taking third in the opener before beating Mewse over the line to win the second race in dramatic fashion.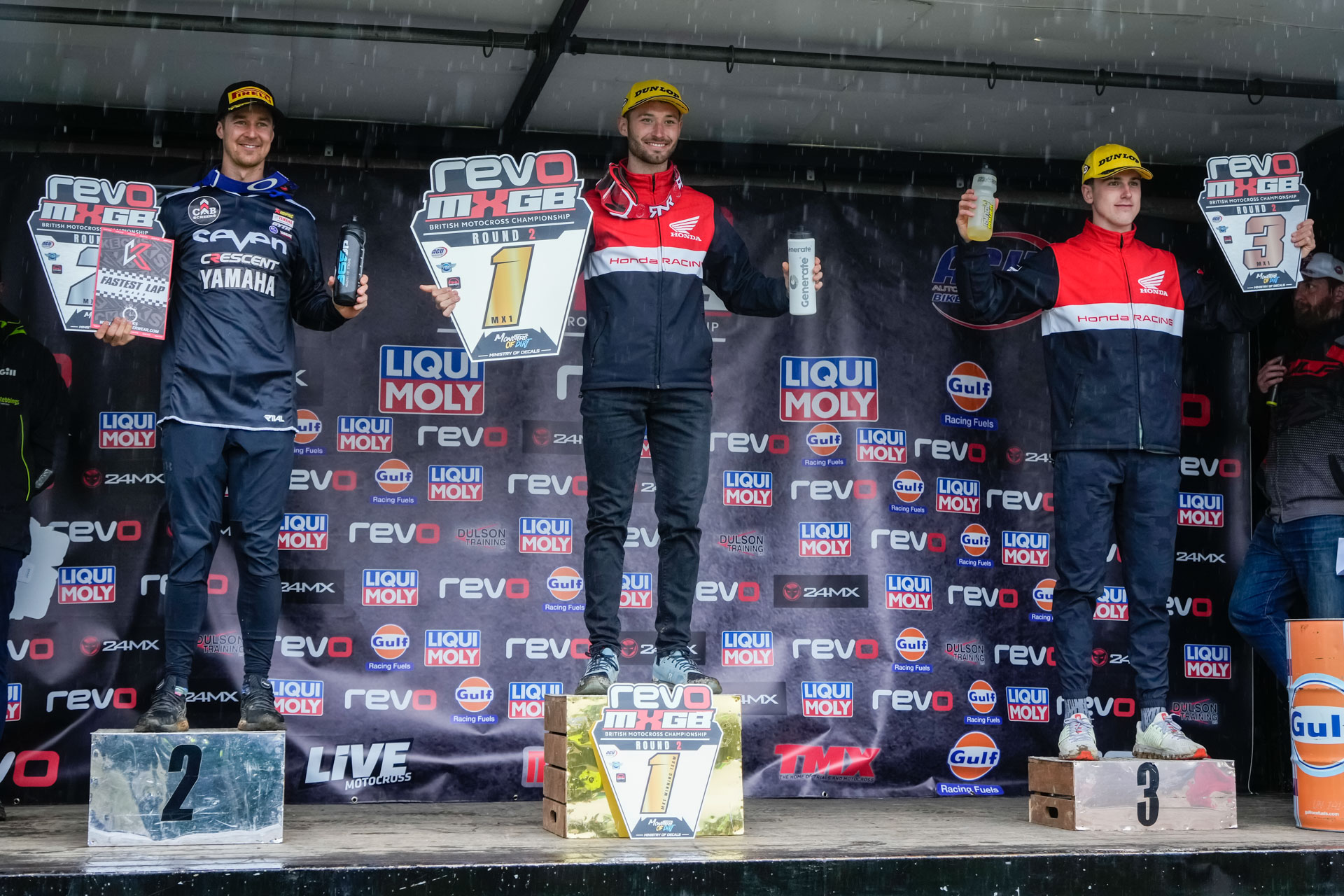 Josh Gilbert won overall from Harri Kullas and Conrad Mewse
The opening heat moto saw Mewse and Gilbert in the leading pack, both chasing race leader Harri Kullas. With Mewse pushing hard to find a way past and Gilbert on his tail, the leading trio gapped the opposition on the roughening, sun-kissed track. Mewse, who had been second in qualifying, and pole man Gilbert kept close company behind Kullas as they tried to find a way past. On the last few laps it was left to Mewse to make the challenge for victory but he couldn't quite squeeze by and took second with Gilbert third.
As rain was falling heavily at the start of the second race, both Crendon Fastrack Hondas made great starts. By the second corner, Gilbert had nipped by holeshot man and British champ Tommy Searle, and Mewse was quickly on Searle's tail with Kullas charged hard right behind.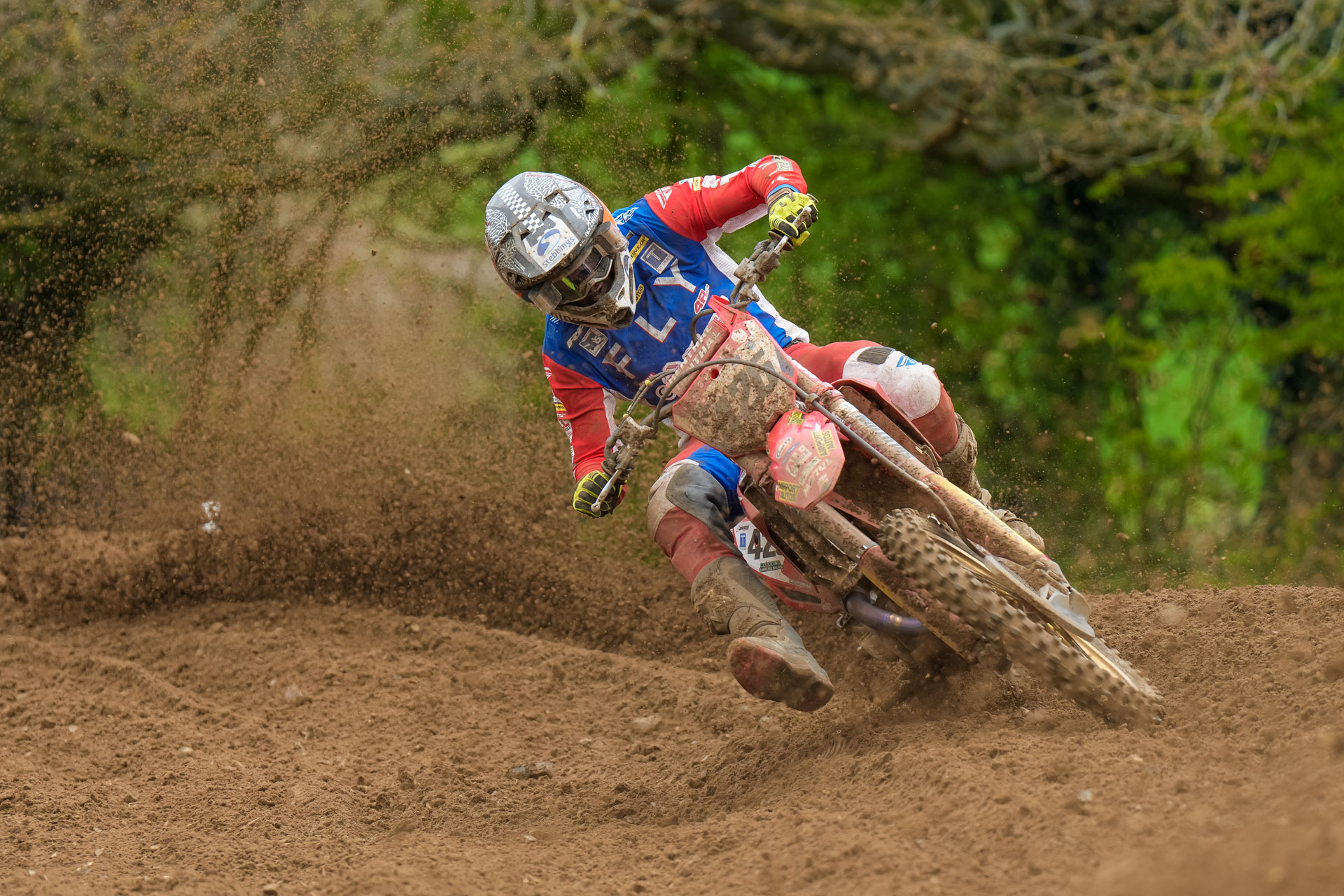 Mewse in typical style in the first race
Mewse took until lap four to get past Searle, who slowed with a bike issue, as Kulas moved up to third place. But it was all about the pair at the front who both set incredible fastest lap times that were separated by just one thousandth of a second. No other riders could come close to the Hondas, battling hard for the lead as third man Kullas eventually dropped 55 seconds back.
Backmarkers slowed leader Gilbert which allowed Mewse to close in. Then Mewse put the pressure on Gilbert right through the remainder of the race, but the Cornishman kept his cool and beat his team-mate over the line by 1.4secs to take the race win and the overall victory. With two second place finishes, Mewse was just one point behind but was third overall. It means that Kullas still leads the series, now by seven points from Mewse with Gilbert now seven further back. With six rounds left paying a total of 50 points each, it's all to play for.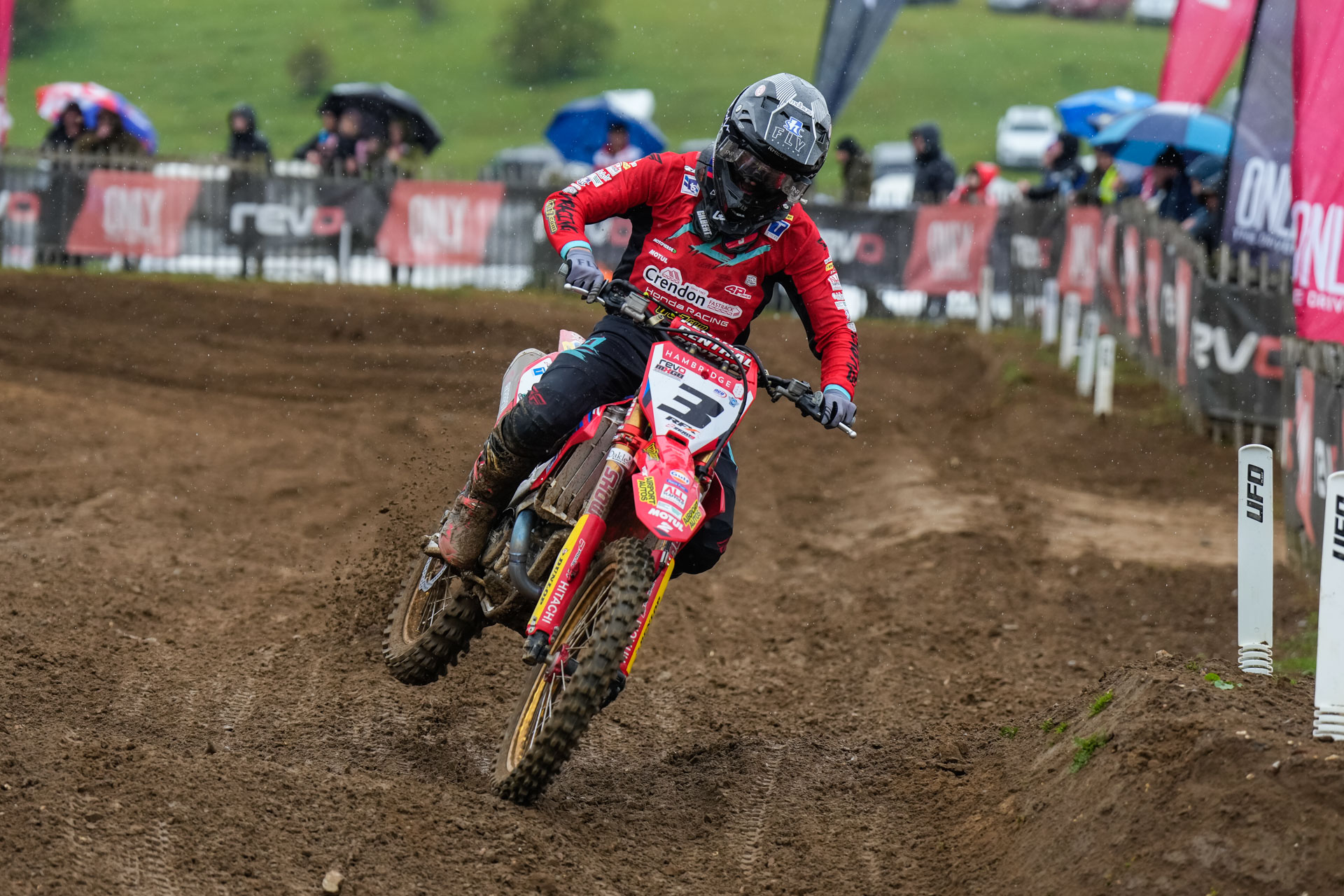 Gilbert mastered the rainy conditions in race two
Gilbert said: "What a day! I felt comfortable in qualifying – I poled that and I hadn't done that for a long time. The first race was going well I was in third and right on the first two, but played it safe and brought it home third.
"In the second race I got a good start, was in lead by the second turn and then was riding my own race, lap after lap. I felt comfortable until I caught the backmarkers. I had a four second lead and I caught them a bit wrong so that gap shrank in a couple of laps. My gap just went but I brought it home for the win. I'm starting to gain momentum so hopefully can carry it on for the rest of the season."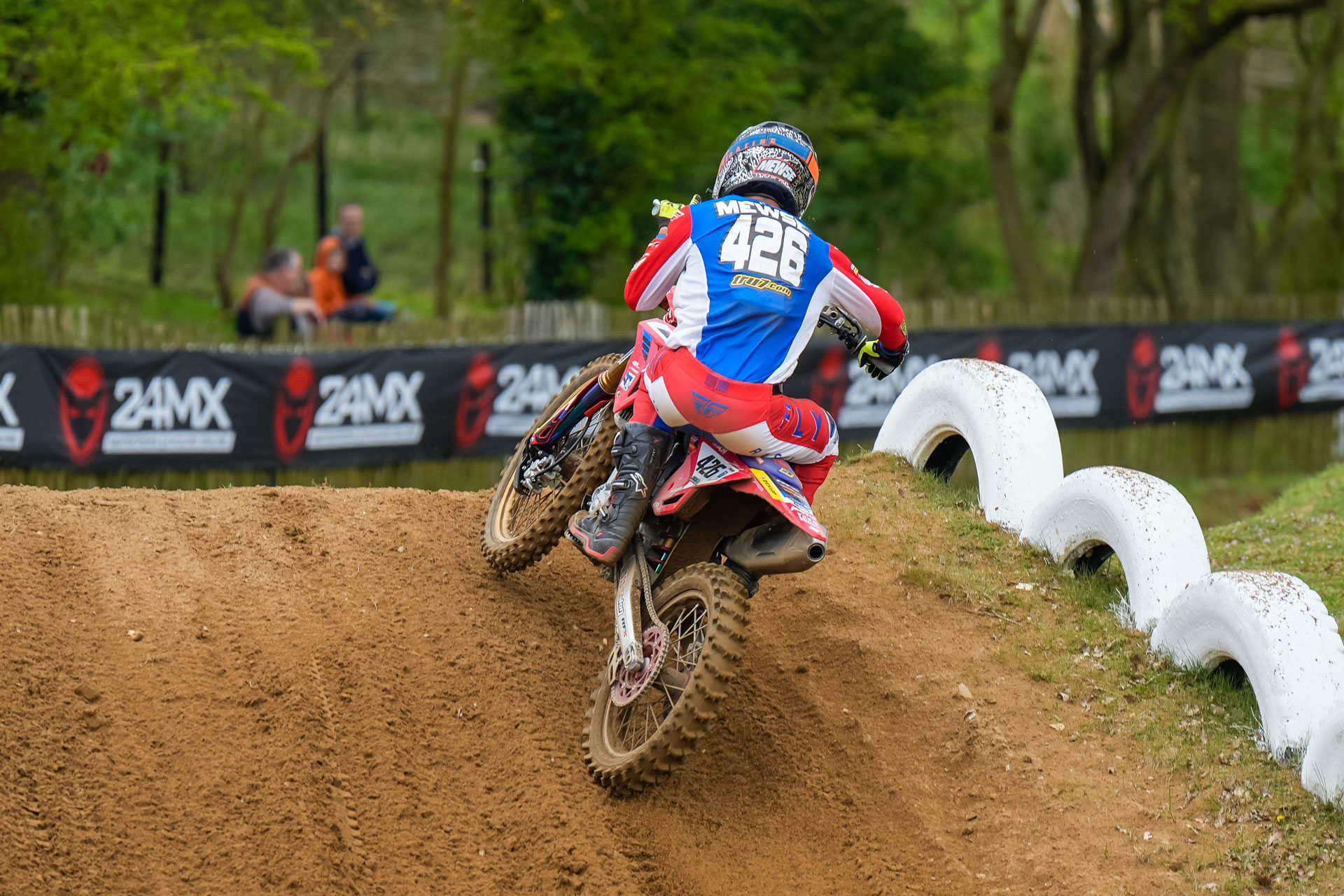 Mewse had two second places
Mewse said: "I'm on the podium but on the wrong step! It was an OK day, for third overall. I was annoyed as I was the only rider in the fight for the win in both races right down to the final lap but just came up short.
"It was so difficult to pass. I felt like I was the quickest rider in both races but couldn't make the pass. I lost a point in the championship so it's not the worst day. And it was a good job by Josh and the Crendon Fastrack Honda team. I'm now looking forward to some track with more lines and showing my full potential."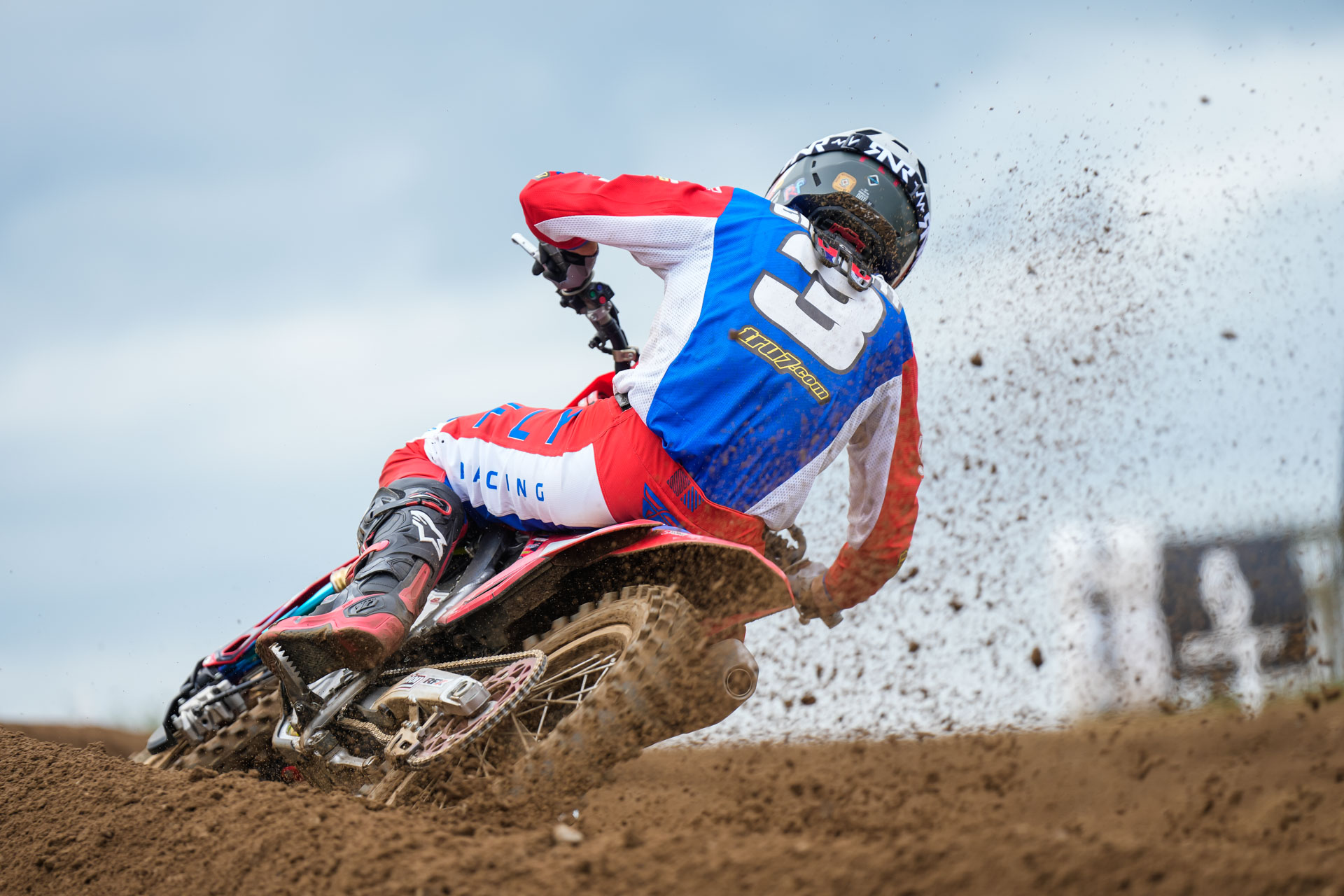 Gilbert relished the sandy conditions
Team manager Dave Thorpe said: "It's 46 years since I first came here and the bumps and track are the same! And the riders have the same problems – it's not easy to pass. In the first race I felt sorry for both Conrad and Josh as they were faster but couldn't get past Harri Kullas.
Even when rain came, they both didn't falter and put the effort in. It could have gone either way. Conrad is a bit frustrated he didn't deal with Tommy Searle earlier and Josh is frustrated as some of the backmarkers don't know what a blue flag is.
"But it's a long championship, and both gave everything today so I couldn't ask for more. With a win for Josh and Conrad on the podium, it was a great day for Honda, the CRF450R didn't let us down and as always, the whole the team never lets us down. And it's nice both riders are at the sharp end in the MX1 championship."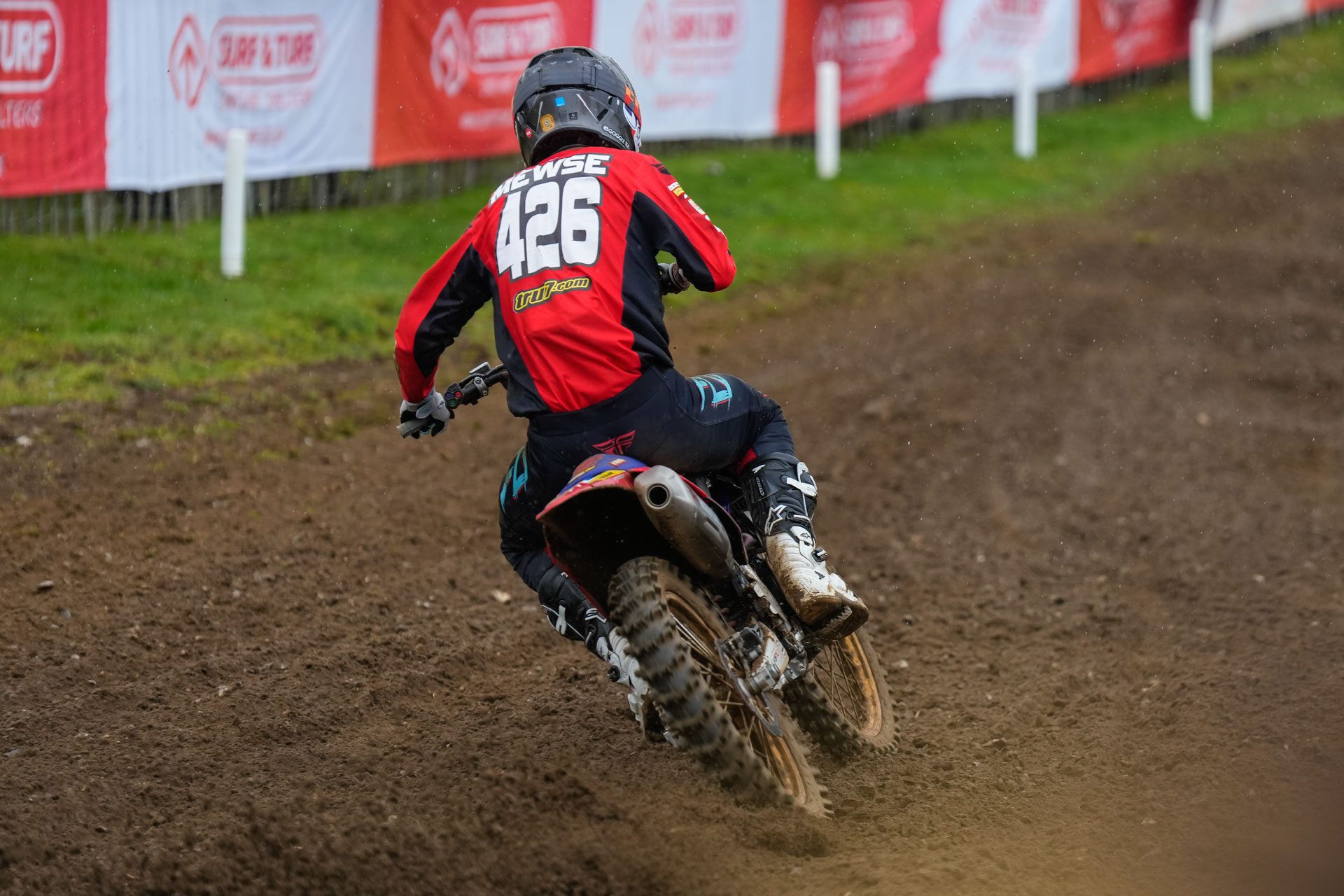 Mewse is still second in the championship
CU British championship round two, MX1 overall:
1 Josh Gilbert Crendon Fastrack Honda 45
2 Harri Kullas 45
3 Conrad Mewse Crendon Fastrack Honda 44
4 John Adamson 34
5 Evgeny Bobryshev 33
6  Brad Todd 29
7 Martin Barr 27
8 James Carpenter 24
9 Shaun Simpson 23
10 Tommy Searle 20
22 Callum Green Tru7 Honda Racing Academy 1
Championship points after two rounds:
1 Harri Kullas 95
2 Conrad Mewse Crendon Fastrack Honda 88
3 Josh Gilbert Crendon Fastrack Honda 81
4 Shaun Simpson 56
5 Brad Todd 51
6 James Carpenter 44
7 Martin Barr 42
8 Ashton Dickinson 40
9 Tommy Searle 39
10 John Adamson 36
22 Callum Green Tru7 Honda Racing Academy 9
A full set of photos is available at https://we.tl/t-T6bGyXIpUe