Another Win for Crendon FASTRACK Honda at Round 1 of the 2023 MX Nationals Championship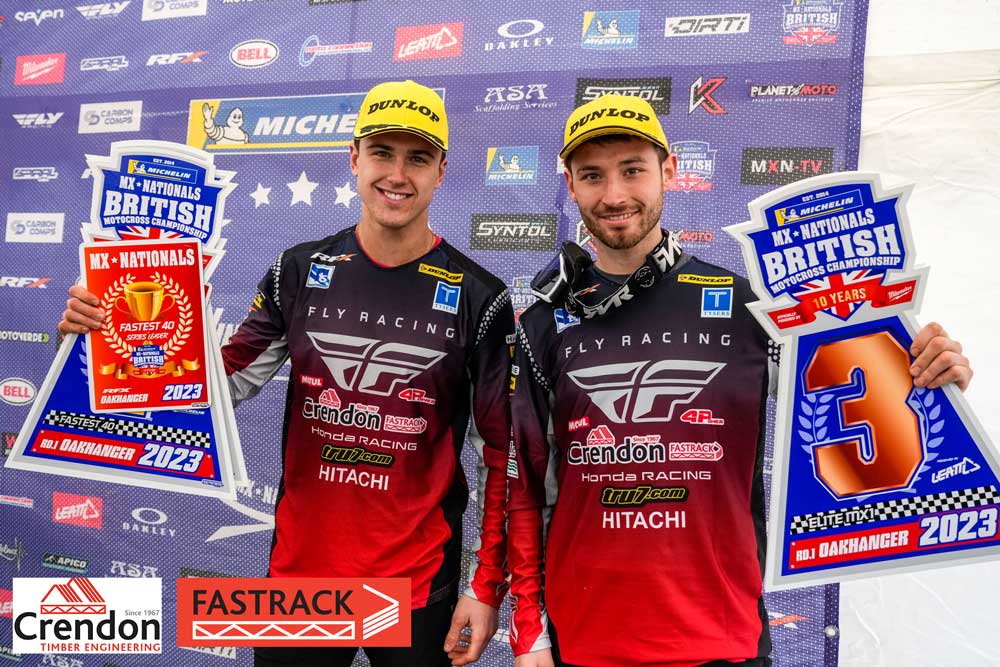 Just a week after Conrad Mewse and Josh Gilbert put their Crendon Fastrack Hondas on the podium in the opening British motocross championship at the punishing Oakhanger track in Hampshire, the duo returned to the same venue for the start of MX Nationals series and repeated the feat. Except this time, Mewse went one better as he totally dominated both races to take an emphatic double win, while Gilbert once again ended up third.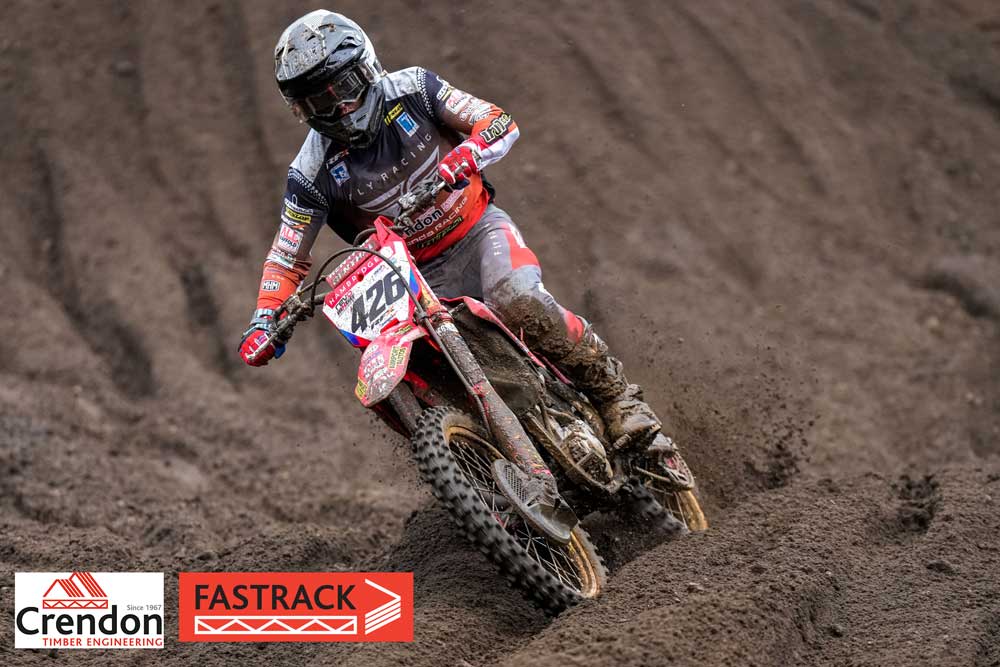 Conrad Mewse was the only rider to stay clean as he dominated race two from start to finish
After Mewse had struggled with starts at last week's round – his first outdoor race for the team – the Crendon Fastrack Honda crew spent time fine-tuning the bikes for both riders before the event. And it paid off in spades, as both had good starts in the two races.
But the star of the day was Mewse, who revelled in the wet conditions which once again turned the track into a rutted, punishing test of man and machine. In the opening moto, Mewse was second into the first corner but got pushed wide, allowing last week's winner Harri Kullas into the lead and two further rivals to sneak through. Mewse and Gilbert exited the corner side-by-side in fourth and fifth places. But by the end of the first lap, Mewse was in second place behind defending champ Kullas, with Gilbert on his tail.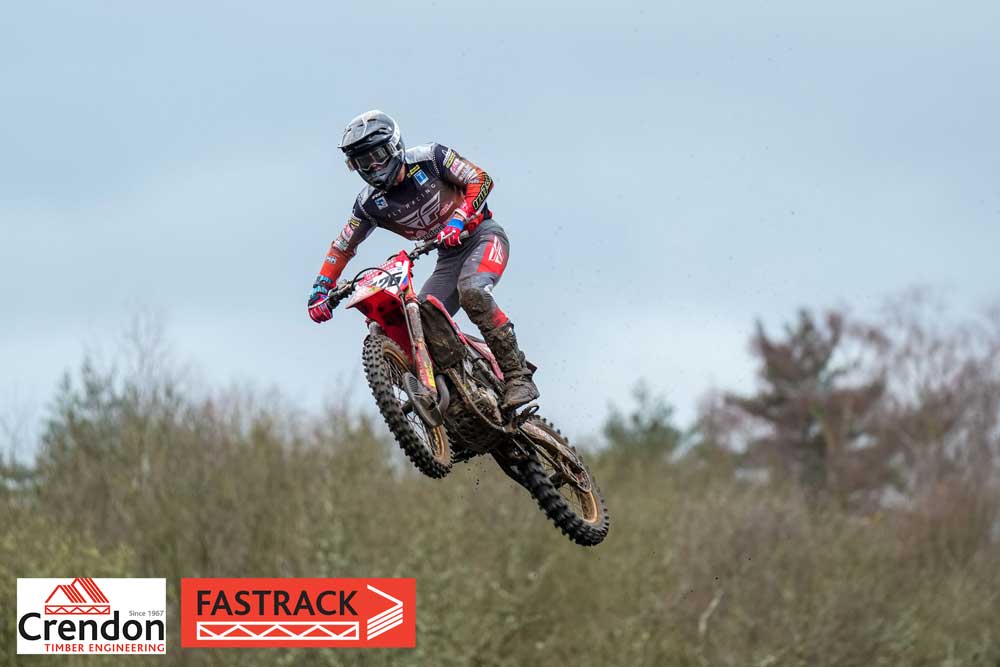 Mewse just loved the punishing conditions and was in a class of his own
On the second lap Mewse made his move to take the lead and began to pull out a huge lead over Kullas, who in turn began to ease away from Gilbert. Mewse had it all his own way, holding a commanding 28-second lead with one lap to go. It was on this final lap that Gilbert finally caught Kullas, whose bike was smoking, and made the pass to take second place. But later it was ruled the last lap flag had been shown a lap too late, so the results were taken on the penultimate lap. So Gilbert was demoted to third.
Second time out Mewse blasted his Honda CRF450R into the holeshot right from the gate, with Kullas and Gilbert once again on his tail. Mewse was magnificent as he pulled out a ten-second lead on the opening lap, while Kullas tried his hardest to keep up but was no match for the Honda man who lapped riders up to sixth place. Gilbert rode a consistent race for a fine third place on a track he admits he didn't feel comfortable on. At the end, he was more than half a minute in front of fourth place.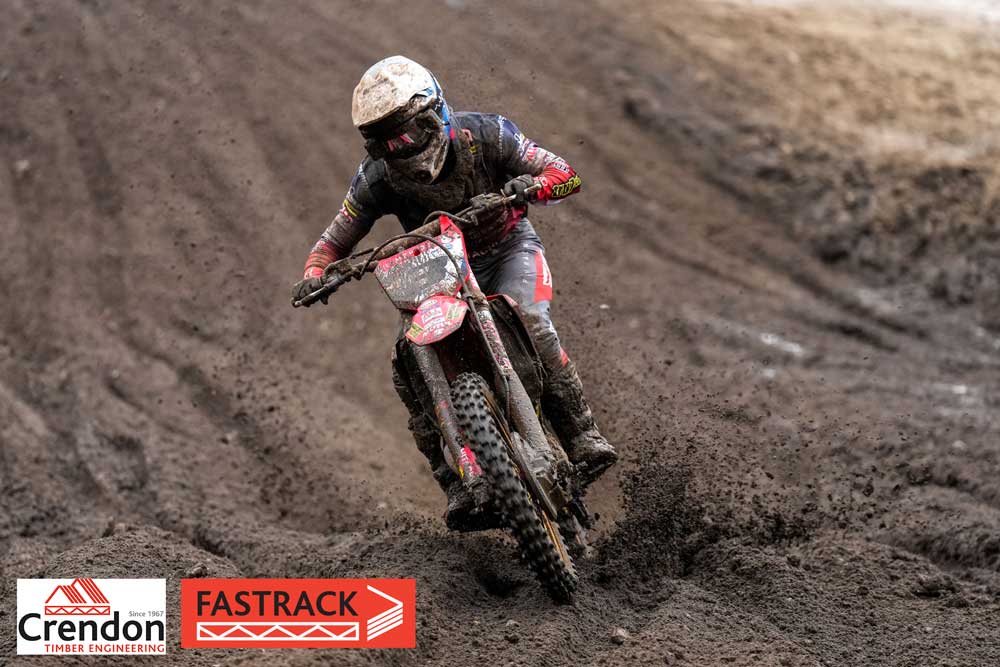 Josh Gilbert took third overall for the second week in a row – on the same track
Mewse said: "I went 1-1 and was fastest in qualifying so that was an awesome day. This is what I should have done last weekend! We made a lot of changes to the bike this week to improve my starts and it was incredible. I almost had both holeshots so I have to give a big shout out to the team for all their work – they are awesome. The moment they look into detail and can see a slight improvement, they make it.
"And the track was amazing – so technical, rutty, bumpy and I loved every minute of it. This was one of the hardest tracks I've ridden ever. The pace was high, you were jumping into the ruts – it was gnarly."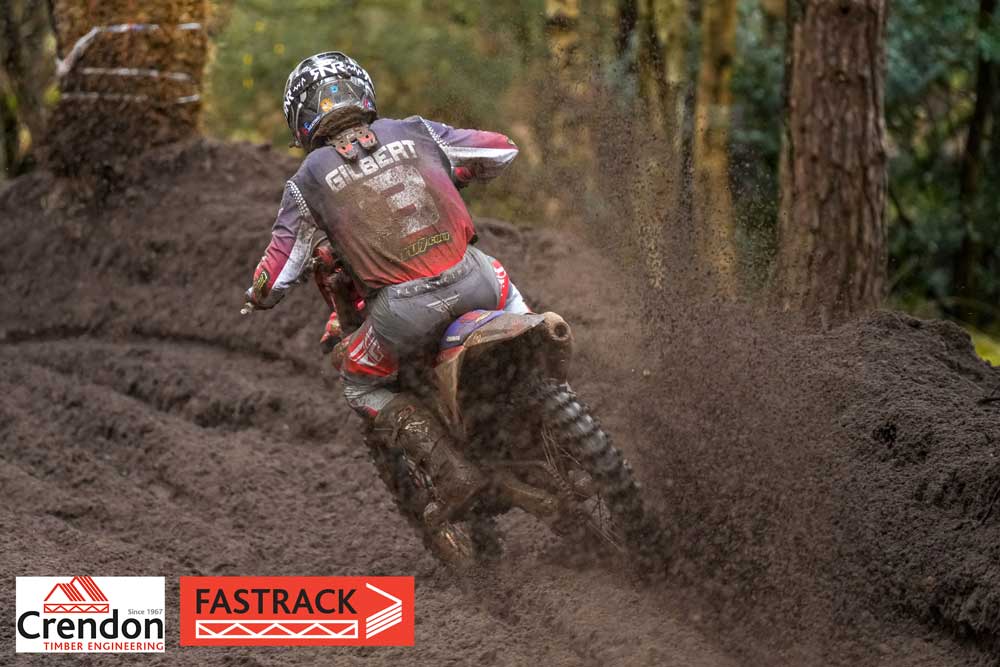 Gilbert was smooth and determined to get a good result
Gilbert said: "Another week, another podium! And on the same track again which I'm not the biggest fan of. We don't have any other track like this – it's like a wet Dutch track which I haven't ridden a lot.
"I've not felt comfortable on it at all. Every other track I like, so I'm looking forward to getting some race wins. I thought I had second in the first moto but there was some confusion on the laps so I was given third, and went 3-3. Roll on the next races."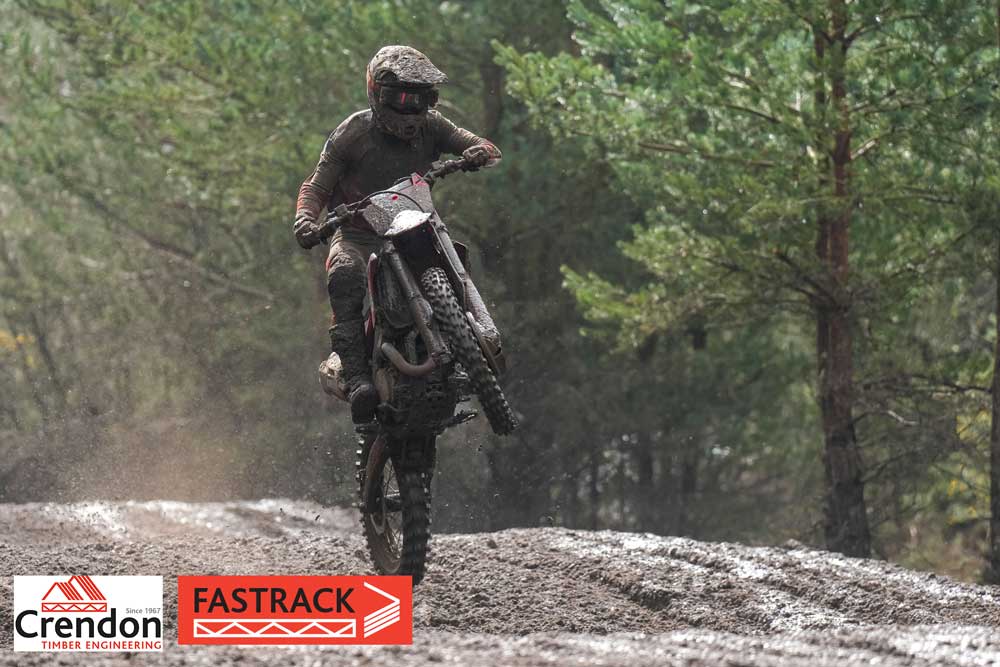 The first race was very wet as Mewse powers through the mire
Team co-ordinator Ryan Thorpe said: "Both riders were very impressive today in really difficult conditions. We made a lot of changes to both bikes in the run up to the event, especially Conrad's bike as he struggled on the starts last week. We went back to basics, made some engine and gearing changes and it definitely paid off.
"It certainly worked for him in race two as he took the holeshot and pulled out a ten second lead on the first lap. He was so good in those conditions and to win both races is exactly what we knew he was capable of.
"Josh was also riding solidly, especially as he doesn't enjoy that track and to have to race it two weekends in a row is not ideal. He was a bit unlucky as he crossed the line in second place in the first race but was given third due to the timing error. But third overall is a great start to the series. And both bikes handled the difficult conditions very well with no problems."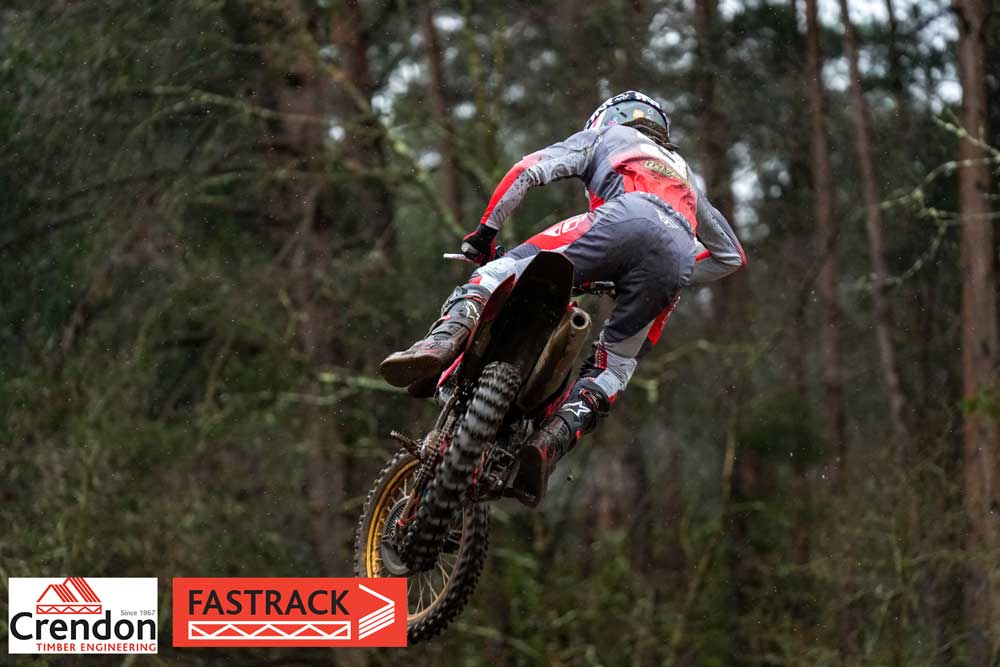 Gilbert keeps control of the Crendon Fastrack Honda CRF450R
MX Nationals championship round one, MX1 overall:
1 Conrad Mewse Crendon Fastrack Honda 50
2 Harri Kullas 50
3 Josh Gilbert Crendon Fastrack Honda 40
4 Martin Barr 34
5 John Adamson 33
6 Tom Grimshaw 31
7 Gavin Stevenson 26
8 Dan Thornhill 23
9 Charlie Putman 23
10 Stuart Edmonds 21
12 Callum Green Tru7 Honda Racing Academy 15
Championship points after one round: As above