Another Home Win for Crendon FASTRACK Peterborough Speedway – PANTHERS 53 SHEFFIELD 37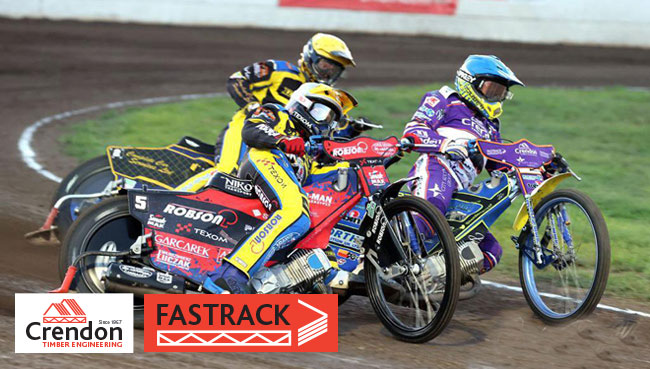 PETERBOROUGH moved off the bottom of the league table with another excellent display to defeat Sheffield 53-37 at the East of England Arena.
The Crendon Panthers repeated their result of a fortnight ago against a much-changed Tigers side, winning the meting with a six-man team performance in the absence of the injured Niels-Kristian Iversen.
There was a further concern during the meeting when Artem Laguta was forced to miss Heat 13 with an ankle problem after a previous tangle with team-mate Chris Harris, and he will be set for further checks on the injury.
Prior to that, Laguta had been unfortunate in Heat 1 which should have been stopped for an unsatisfactory start by Kyle Howarth, but he had then raced to two wins to show he is up to speed at Alwalton.
All of the Panthers enjoyed wins and paid wins, and they were especially successful at reserve where Ben Cook and Jordan Jenkins combined for 19 (paid 22) between them whilst the Tigers' tail-end of Claus Vissing and Jason Edwards failed to beat an opponent.
Cook and Jenkins both passed Vissing in Heat 2 for the first 5-1 of the night, and Cook quickly overhauled Edwards for third place in Heat 4 to prevent a Sheffield advantage with the impressive Tobiasz Musielak out in front.
Laguta and Harris extended Panthers' lead with maximum points in Heat 6 as the hard-charging Musielak missed out, and Jenkins then produced a brilliant ride in Heat 8 to go between Howarth and Edwards on the second lap to team up with Harris for another 5-1.
Vadim Tarasenko recovered from a slow start to the meeting to win Heat 9 before Harris was disqualified from Heat 10 after coming close to Josh Pickering and then running into Laguta's path which brought both riders down.
Laguta bravely took the re-run and rode a stormer to beat Pickering and Chris Holder, with Panthers further extending their lead in Heat 11 as Cook got the better of Pickering with Benjamin Basso third ahead of Howarth.
The Tigers paired Musielak as a tactical substitute with Holder in Heat 12, but Tarasenko was able to take care of both with a clever inside ride, and even though Laguta's absence meant Panthers deployed their reserves in Heat 13, Jenkins still rode well to split Musielak and Howarth.
Basso notched his second win of the night as Panthers took a 4-2 in Heat 14, whilst the last race was shared with Harris making the final overtake to get the better of Pickering for third place behind Musielak and Basso.
Manager Rob Lyon said: "It was another solid team performance, and I'm really happy with that.
"We covered for Niels' rides pretty well, and it was a good display overall. Jordan had one of his best meetings for us, his riding was intelligent and I'm pleased for him.
"It would have been nice to have had this team several weeks ago, but circumstances dictated that wasn't the case.
"It's probably one of the strongest teams in the league now, and it's going to finish near the bottom which is a shame, but that's the way it goes. Now we've got this team we want to make sure we make the most of it and get a feel-good factor, and finish on a high for everyone."
Panthers are back in action on Thursday at home to Leicester in a highly significant fixture with the Lions requiring one more match point to clinch a play-off place.
PETERBOROUGH 53: Benjamin Basso 12, Ben Cook 10+1, Chris Harris 9+2, Jordan Jenkins 9+2, Vadim Tarasenko 7+1, Artem Laguta 6, Niels-Kristian Iversen r/r.SHEFFIELD 37: Tobiasz Musielak 16, Josh Pickering 9+1, Kyle Howarth 6+1, Chris Holder 5+3, Claus Vissing 1, Jason Edwards 0, Tai Woffinden r/r.
Peterborough win the aggregate point