Another Double Win for Crendon FASTRACK Honda at Hawkstone Park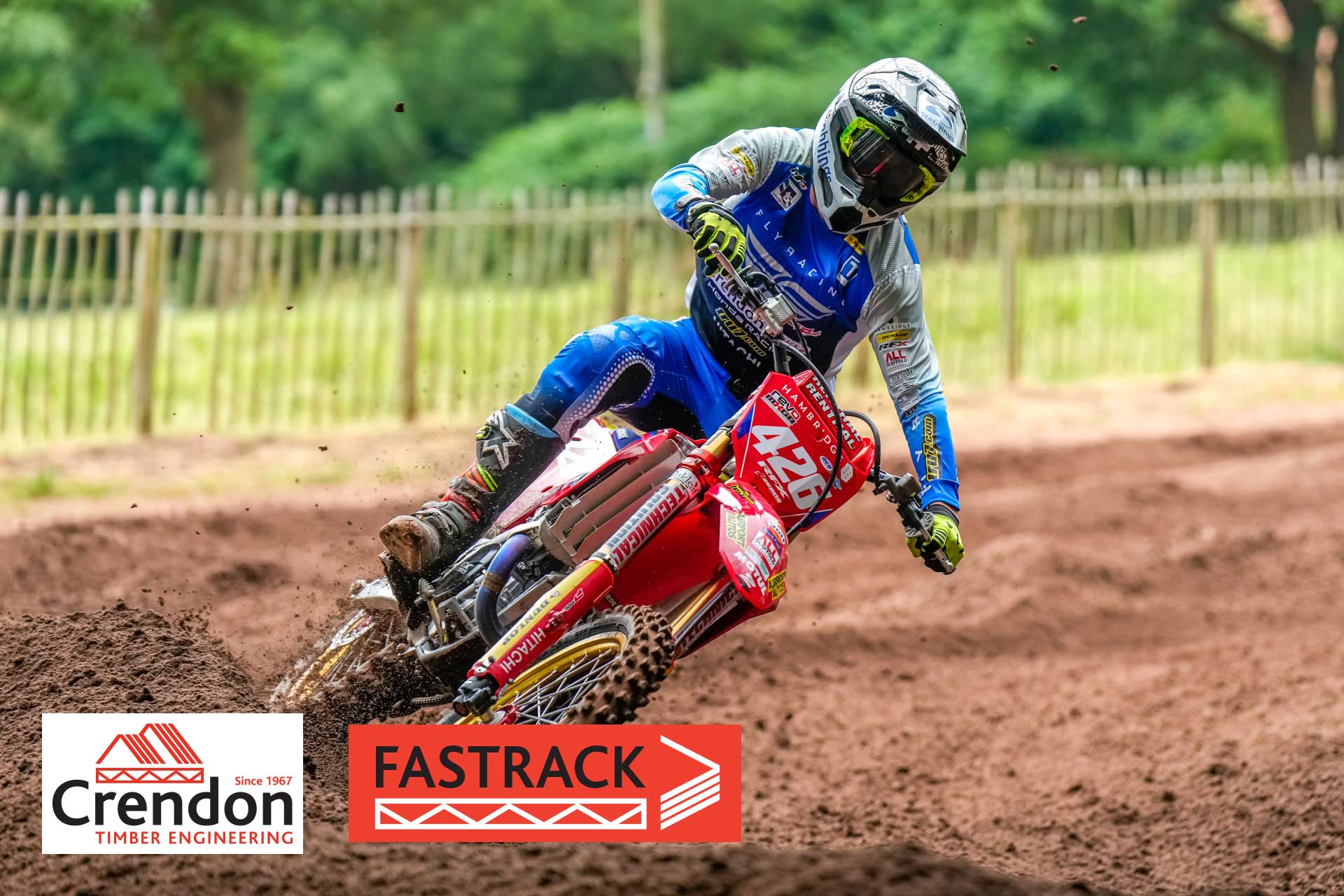 Conrad does the double again and extends his Revo British championship lead with Crendon Fastrack Honda team-mate Josh Gilbert second
It was yet another show of Crendon Fastrack Honda power at the ACU British championship round at Hawkstone Park on Sunday as once again Conrad Mewse and Josh Gilbert delivered a fearsome one-two punch.
It means the record for both Honda CRF450R riders Mewse and Gilbert continues as the pair have now been together on the podium at every single national-level championship round this season. That's five British championship rounds and both rounds of the MX Nationals series too.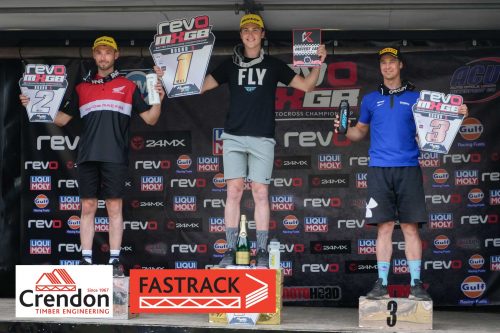 Crendon Fastrack Honda team-mates Conrad Mewse and Josh Gilbert finished first and second at Hawkstone
Mewse, who claimed the red plate of the series leader at the last Revo round at Blaxhall, and his team-mate Gilbert were fully prepared for the tough and track after spending a lot of time in Belgium and Holland training on sand tracks and dialling in bike set-up in the past week.
And it really paid dividends for Mewse who just loves he Hawkstone track. He was fastest in qualifying, more than 1.6 seconds faster than anyone else. He then took dominant wins in both races to extend his series lead to 17 points over Harri Kullas. Hard pack specialist Gilbert admitted he was never at home riding on the circuit but still came home in a hard-fought second place, edging closer to Kullas in the title race who was third overall on the day.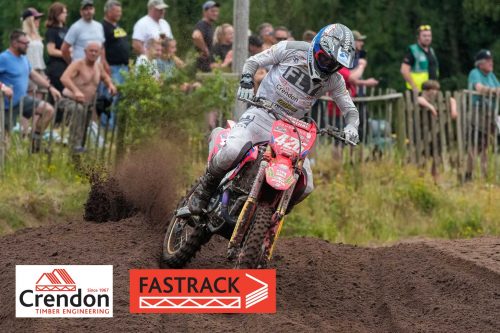 Mewse carves out of the historic sandpit
The first race saw Mewse in stunning form. He gated well and on the first lap held a solid fourth place behind leader Kullas, Gilbert and Tommy Searle. The series leader was in no mood for eating roost and quickly carved to the front then pulled away to win by a 16-seond margin, setting a lap time three seconds quicker than anyone else.
Gilbert chased Kullas for the majority of the race, but was not feeling confident on the roughening, tough track. He brough the Crendon Fastrack Honda home for third place.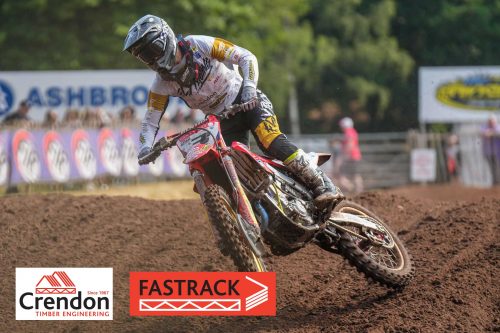 Gilbert didn't get as dialled in to the circuit as he'd have liked, but still took second
Race two was even easier for Mewse as he rocketed into the lead right off the start and none of his rivals could even get near. He gave a masterclass of incredible riding to take the win by a 50-second margin, with a fastest lap four seconds better than the rest.
This time Gilbert didn't have the best start and came around the first lap in fifth place. Italian Ivo Monticelli was second behind Mewse, from Searle and Russian Evgeny Bobryshev. By the second lap Monticelli fell and Searle dropped back, while Gilbert latched onto former British champ Bobryshev in a battle for second. The Brit hounded Bobryshev until lap ten when he made a decisive pass and pulled away by eight seconds. Kullas pulled through to fourth to take the final place on the podium.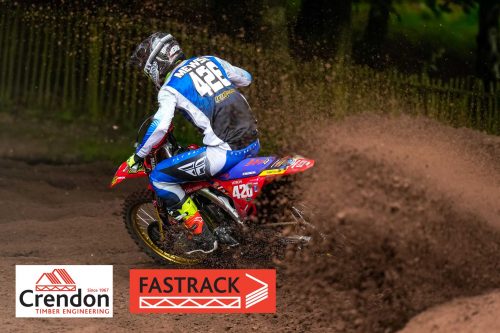 Mewse loves sandy tracks and was unstoppable
Mewse said: " It was a really good day – a perfect day in fact! First in qualifying, I won both races even holeshot the last race.  It was so good and I felt really good all day. We've really pushed on and have all been working hard lately. And I feel like we are in a great position at this point in the season. We're peaking just at the right time but we're going to keep working and not take our eyes off the ball. We'll keep grafting for these last two Revo rounds, and we still have some MX Nationals to go. So I still have a lot of races and I'm looking forward to a good end to the season."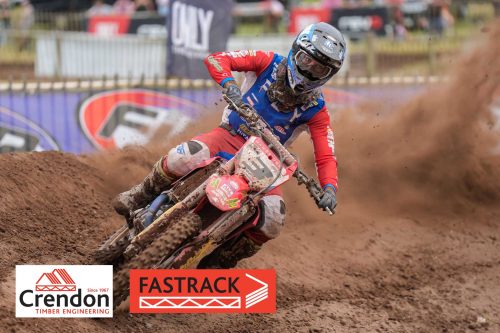 Gilbert chased hard in the second race and took a fine runner-up spot
Gilbert said: "It was damage limitation today. From the moment I got on the track I knew it was going to be a long day. I just didn't feel comfortable whatsoever. We chased bike set-up to make it feel more comfortable, but I struggled – simple as that.
"Most of the tracks I really enjoy, even the sand tracks. But just here today I really struggled so to still come away with second overall is good. I've lost a few points in the championship which isn't ideal but were still there. There's still 100 points to grab before the season's over, and both rounds left are more my sort of tracks We'll just keep our heads down and working, and get some race wins before the end of the season."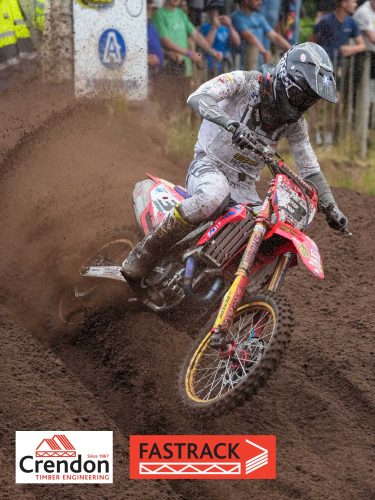 Gilbert pushed hard all day and was determined to do as best as he could
Team manager, triple world 500 champion Dave Thorpe said: "It's clear to see how hard Conrad and Josh have been working since our last British championship race at Blaxhall.  What can you say about Conrad's performance – technically perfect in every sense of the word, a true inspiration to all the kids watching. His speed and commitment was exceptional.
"We know this is not one of Josh's favourite tracks but he dug in and fought to close the gap on Harri to two points. And as always I would like to thank all of our partners for supporting us and Ryan, Willie and Rob for giving the riders the very best Honda CRF450Rs we can produce."
Revo British MX1 championship round five results:
1 Conrad Mewse Crendon Fastrack Honda 50
2 Josh Gilbert Crendon Fastrack Honda 42
3 Harri Kullas 40
4 Evgeny Bobryshev 38
5 Tommy Searle 29
6 John Adamson 29
7 Tristan Purdon 28
8 Ivo Monticelli 27
9 Ashton Dickinson 25
10 Jason Meara 21
23 Callum Green Tru7 Honda Academy Honda 2
Championship points:
1 Conrad Mewse Crendon Fastrack Honda 208
2 Harri Kullas 191
3 Josh Gilbert Crendon Fastrack Honda 189
4 Evgeny Bobryshev 114
5 Ashton Dickinson 105
6 Tristan Purdon 105
7 John Adamson 96
8 Brad Todd 92
9 James Carpenter 88
10 Tommy Searle 85
25 Callum Green Tru7 Honda Academy Honda 14
A full set of photos is at https://we.tl/t-gPxRx0eCBx