A Perfect Day for the Crendon FASTRACK Honda MX Team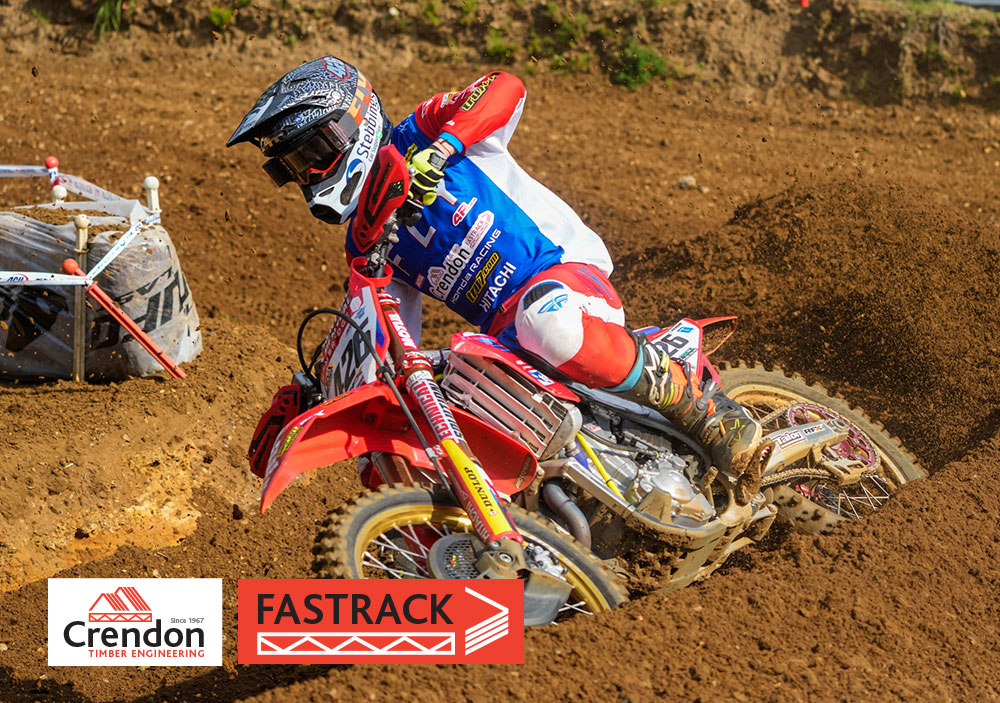 Conrad Mewse took a clean sweep in the ACU British motocross championship at Blaxhall on Sunday, setting the fastest time in qualifying, winning both motos and taking the red plate as championship leader. Mewse, who also holds the red plate in the MX Nationals series, was chased home both times by team-mate Josh Gilbert who took second overall. It also continues the incredible 100% record of the duo being on the podium at every single national event they have raced this season.

Conrad Mewse took two wins from Josh Gilbert with two seconds
Mewse arrived at the sandy Suffolk track second in the series, three points behind leader Harri Kullas, with Gilbert just five points back. But 23-year-old Mewse was still without a race win in the premier UK series.
He quickly made amends in the opener as he was fourth on the opening lap, then quickly came through to second place behind Gilbert who had taken the lead after passing holeshot man Kullas and Evgeny Bobryshev. Mewse chased his team-mate which had the large crowd captivated and cheering on their favourite. As the two Honda CRF450Rs left their rivals behind, Mewse managed to get by Gilbert to take the lead. Gilbert tried all he could to get back in front but Mewse held on to the flag. Kullas was third, 17 seconds behind the winner. It meant Mewse led the series for the first time.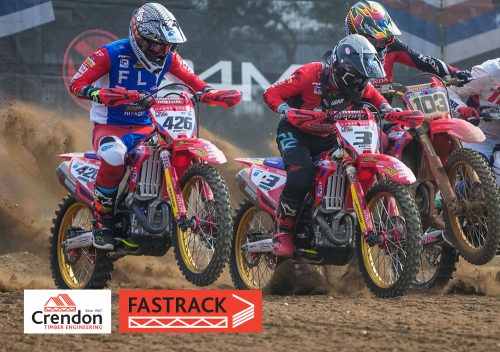 Mewse and Gilbert were in top form and dominated
In the second race, it was even more decisive for Mewse as he passed the erly leader Kullas on the opening lap and then set an incredible pace at the front. Gilbert took a lap to get into second place and set off in a bid to put pressure on his team-mate, setting even faster lap times. But by lap five, Mewse somehow upped the pace to ease away to a decent buffer at the front. Gilbert, who set the fastest lap of the race more than three seconds quicker than Kullas behind him, brought the Honda home for a fine second place to take second overall. It was a day of complete dominance for the Crendon Fastrack Honda team.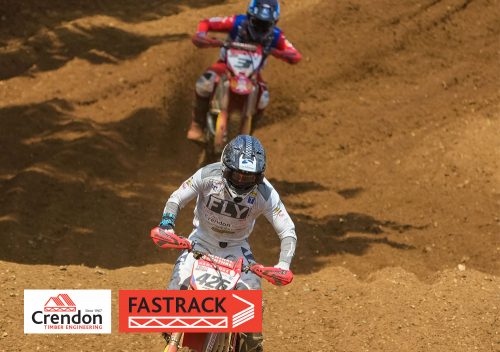 Mewse leads Gilbert in the thrilling opener
Mewse said: "It's taken a lot longer than I wanted to take the win but that makes it sweeter. It was a spot-on day – it couldn't have been any better. First in qualifying, two wins and the red plate – so I'm over the moon with that. I had two solid races, and  I felt like I was really smart and took my time which is differently than I have ever done before. It's been an awesome learning day.
"It's really nice to go one-two with Josh in both motos. He put the pressure on me, especially in the last one. And the track was so technical and very challenging. The bike was incredible as was the whole team and all my family and supporters.
"I've been off the boil for a few weeks but luckily I got thirds and seconds so that wasn't too bad. The next British championship round is Hawkstone Park which is sandy is a bit of me!"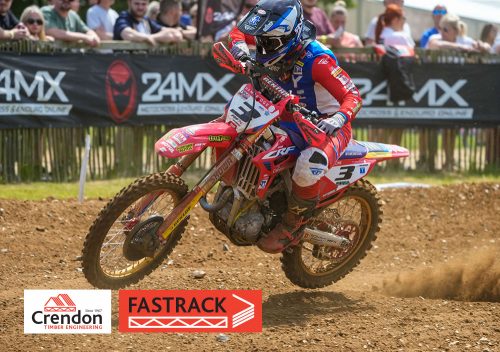 Gilbert gave it his all and was spectacular
Gilbert said: "In the first race today I clipped the top of the gate and had a bad start but made the most of it in the first few corners. I went to work on Bobby and Harri, got in the front and I thought I was away. But Conrad was behind, I made one mistake and he got under me. I was using lots of energy to try to get him so I knocked it off and saved it for the second one. In that one I got into second behind Conrad and tried to put the pressure on by he didn't crumble.
"That was a good day with second overall and a one-two is great for the team. But I was eight points off the lead and now it's 11 so I actually lost a bit of ground! But there are still 150 points to play for. Now with a few weeks before next British I'll work on a couple of things and get that gap down."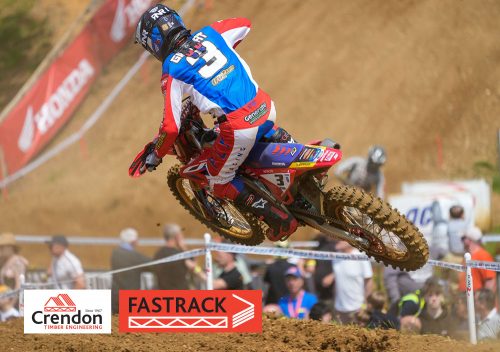 The Crendon Fastrack Honda CRF450Rs were flawless all day
Team manager Dave Thorpe said: "I'm so pleased with the effort all the riders put in, and the mechanics worked hard to pull everything together. And of course Conrad and Josh were exceptional. There's still a way to go yet and we can't take our eyes off the ball. At some point Harri will come back very strong. We've got to keep working hard and focusing on the job in hand.
"The event today was a real credit to the club. It was an amazing event, on an immaculately prepared track, with a good crowd and great racing. Happy days. And it was made more special for us as Honda's off-road boss Graham Foster-Vigors came along as our guest and what an event to come to, as the Crendon Fastrack Honda team really put on an amazing show."

Both Crendon Fastrack Honda ended up on the podium again to keep the 100% record
ACU British MX1 championship round four:
1 Conrad Mewse Crendon Fastrack Honda 50
2 Josh Gilbert Crendon Fastrack Honda 44
3 Harri Kullas 40
4 Evgeny Bobryshev 36
6 Tristan Purdon 31
7 Ashton Dickinson 28
8 Liam Knight 26
9 James Carpenter 26
10 Tom Grimshaw 18
21 Callum Green Tru7 Honda Racing Academy 3
Championship points:
1 Conrad Mewse Crendon Fastrack Honda 158
2 Harri Kullas 151
3 Josh Gilbert Crendon Fastrack Honda 147
4 Ashton Dickinson 80
5 Brad Todd 79
6 Tristan Purdon 77
7 Evgeny Bobryshev 76
8 Shaun Simpson 70
9 James Carpenter 70
10 John Adamson 67
26 Callum Green Tru7 Honda Racing Academy 12